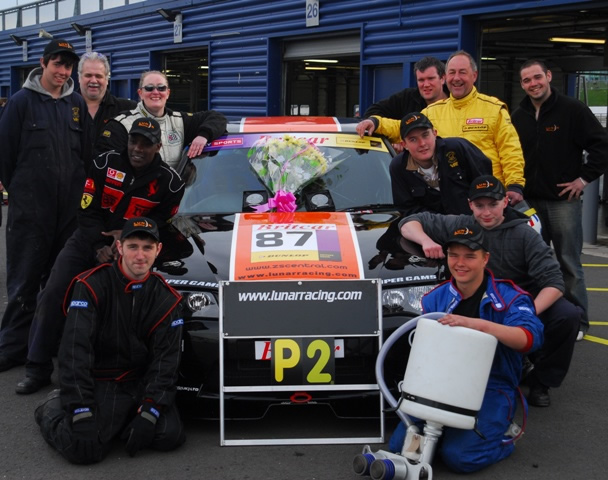 Lunar Racing team headed off to Rockingham Motor Speedway this weekend - and came away with a double podium!
The team (clockwise from bottom left): Anthony, Kingdom, Lewis, Eddie, Sarah, Paul, Derek, DT, Jamie, Nigel & Marc
For the second and third round of the Britcar Production Championship in the Lunar Racing MG ZS, Sarah had the boss of Reflex Racing, Derek Holden as her co-driver. Having driven with Derek's team in her Ginetta G20 for four years, there was plenty of driver competition - all very healthy of course!
With the Lunar Racing team on an extremely tight budget, neither Sarah nor Derek got to test on Friday so the first time she, Derek and the car hit the track was the 30 minute qualifying on Saturday morning! As a result, and not surprisingly, the team qualified 21st overall and 5th in class with lots to do in the race!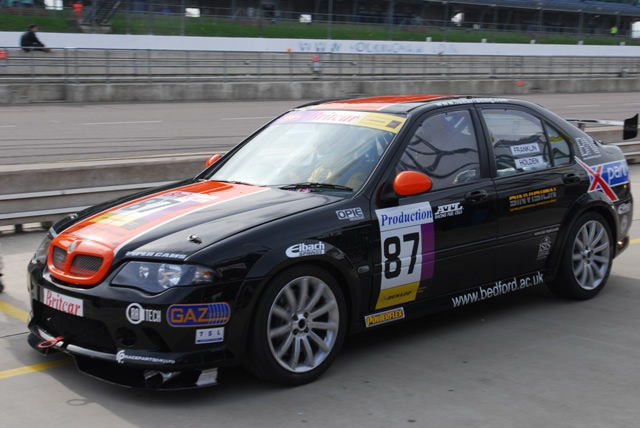 Race one was Saturday afternoon - and the sun came out for the occasion. Sarah was nominated to start the race which, fortunately this time was incident free! Sarah's stint was only blighted by one short safety car period and she then drove faster and faster through-out her 40 minutes on track, knocking off more than 2 seconds from the teams qualifying time. By the time she handed over to Derek, the team were in 3rd place. Derek then got his head down and also went faster and faster, catching and passing the Honda S2000 and 2nd place before the end of the race. The team finished 12th overall and 2nd in class, just 11 seconds separating first and second place!
Sarah said 'That was a very satisfying race. Derek and I both worked extremely hard and it's just a shame that we couldn't quite get to that top step!'
Podium Number One!
As a restul fo the first race result, this meant that the team started Race Two in 12th position, with some much faster class 1 and 2 cars behind them! Sarah again got nominated to start the race which was a little more hectic than the first!
Fortunately, Sarah managed to keep her nose clean and work around the issues of the first couple of laps, including a short safety car period. She then got her head down and again chipped away, getting faster and faster lap times than yesterday and, despite some brake issues, handing over to Derek in 2nd place which he then maintained through to the end of the race, despite a stop go penalty for pit stop infringement! Derek brought the car home in 10th place overall and 2nd in class, bagging the fastest lap of the weekend as he went.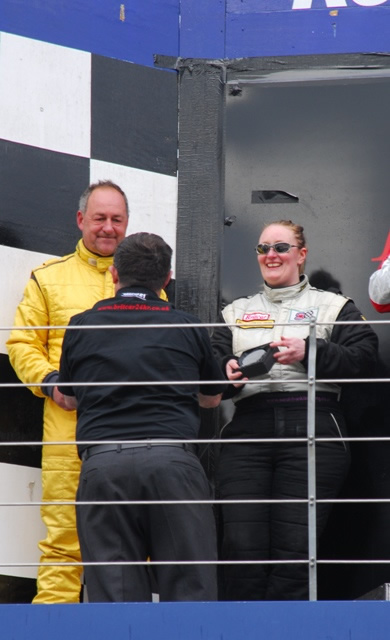 Podium Number Two!
As a result, Sarah is now jointly leading the Britcar Production Championship!