PLEASE BEAR WITH ME WHILST I COMPILE THIS THREAD FOR ICE FAQ'S!

Common Types Of Car Audio Speakers
There are a few types of speakers you should be aware of in the car audio world***8230;
Tweeters ***8211;
A speaker that produces the high frequencies, they are generally small in physical size and can either be separate from the driver speaker or built in. They look something like this***8230;
Speaker Drivers ***8211;
I like to think of this as a small subwoofer, they produce the mid ***8211; low sound frequencies. In general you will have a matched driver and tweeter for a set of speakers. They will look something like***8230;
Coaxial Speakers ***8211;
These are pretty much the same as component speaker but the tweeter is mounted in the middle of the speaker driver so the speaker set in all one piece instead of having the tweeter separate. Good quality sets tend to come crossovers much like component speakers. They look something like this***8230;
Component Speakers ***8211;
A car speaker that typically has a pair of tweeters and mid based drivers with a crossover to limit the frequency range each speaker must accurately reproduce. The tweeter and driver is separate from one another. It will look something like this***8230;
Subs / Subwoofers ***8211;
This is a type of speaker that is purely dedicated to producing the low frequencies of sound. Typically between 8" and 21" in diameter so quite large compared to other types of speakers found in car audio. Generally they are mounted in a box. They look something like this***8230;
6X9***8217;s ***8211;
These are essentially a type of coaxial speaker however they tend to use larger drivers to produce more lower frequencies like dedicated a sub woofer with the added benefit of a tweeter.
Crossovers ***8211;
These serve the purpose of splitting the audio signal into separate frequency bands, which can be handled by individual loudspeaker drivers optimized for those bands. They tend to look like a small square box but can be round etc as well. They look something like this***8230;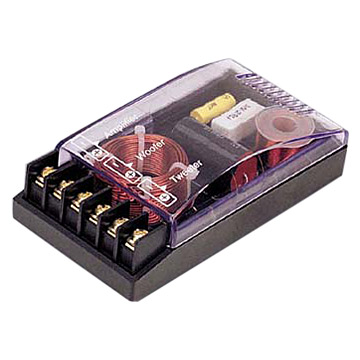 TECHNICAL JARGON

CLASS A
This specifies how the power supply and output stage of the amp works,it is the least efficient of all the designs and as such is really only suitable for small power outputs,but is generally regarded as being the most accurate or ***8220;musical***8221; of all.
CLASS B
This is the most commonly used of all the amplifier types because it is a lot more efficient than class A,meaning that much higher power outputs can be easily achieved.This design produces more distortion than class A does,and is less linear in its operation,meaning that the output doesn***8217;t always faithfully follow exactly what the input does.
CLASS D
The most efficient of all the designs that uses a digitally switched power supply that gives an amp that is a lot smaller than its equivalent class B and also generates a lot less heat,but was always considered to be not as musical giving bass that lacks any real bite or ***8220;oomph***8221;.The newest generation of class Ds are considered to be the next evolution of in-car amplifiers that may soon replace all the other more traditional types,examples of these are the Alpine PDX,Pioneer PRS and the JL Audio HD range due to be with us this summer (2008) that promise to push class Ds up the next level.
EFFICIENCY
This is a measure of how good the amplifier is at converting it***8217;s input power into output power,class A are only about 35% efficient (we need about 1400 watts of input to produce 500 watts of output),class B are about 50% efficient (1000 watts in for 500 watts out),and class D are reckoned to give up to 90% efficiency,so that 500 watts will now only need about 550 watts of input,so less strain on your cars charging system.
CROSSOVER
Most good amps will now have some sort of crossover built in,if it has two or more channels it should have either a Low Pass Filter (LPF) which cuts off the midrange and above to send just bass to sub which ideally should be variable between about 50Hz and 150Hz,and a High Pass Filter (HPF) that cuts off the bass to the full range channels,ideally variable from about 50Hz up to maybe 200Hz.Not always needed now as more lower priced head units now also come with crossovers built in.
PROTECTION CIRCUIT
This refers to the built in device that switches the amp off if it detects a short circuit or a short to earth on the speaker wires,or if the amp should overheat,indicated either by the power on light changing colour or another one lighting up instead.
OUTPUT POWER
RMS (Root Mean Square) and peak are the only two true power ratings that actually mean anything.
Peak = RMS X 1.414,so 100 watts RMS also exists at the same time as 141 watts peak
RMS = Peak X 0.707,so 100 watts peak also exists at the same time as 71 watts RMS
IMPEDANCE
The range of loads that can be safely connected to the amp,normally they are optimized for use at 4 ohms,and will in theory double their power every time you halve the load impedance,although most will only work down to 2 ohms.
FREQUENCY RESPONSE
Normally from about 10Hz up to 30KHz or more,slight differences are of academic interest and won***8217;t be audible.
DISTORTION
Anything less than 1% isn***8217;t audible,so there is no point choosing an amp with 0.000001% over one that has ***8220;only***8221; 0.00001 %,in fact some sorts of distortion are good,but these simple figures can***8217;t really tell us anything useful.
S/N RATIO
The signal to noise ratio needs to be as big as possible to ensure that the background hiss generated by all electronic circuits is as far below the level of the signal as possible,any good amp should be at least 70dB or more,the best will be over 100dB.
GAIN CONTROL
This is actually a misnomer as it doesn***8217;t alter the gain of the amp,it should always be called and used as an input sensitivity control (or level),and NOT as a volume control.Typically it should go down to about 0.5 volts and as high as possible to match up with the ever increasing trend for high output head units,5 volts or more being not uncommon nowadays.
WHAT TYPE OF AMP DO I NEED?

2 CHANNEL
Can be used to drive just one pair of full range or component speakers,or front and rear speakers in parallel (you won***8217;t have front/rear fade like this),or bridged to drive a subwoofer.This option is more versatile than a monoblock if you buy an amp just to run a sub which can only do just that,whereas a bridgeable two channel can be used for either purpose.
4 CHANNEL
Can be used to drive two pairs of full range or component speakers,and if your source unit has front and rear RCA ouputs then you can still have front/rear fade working.Or you could have front speakers and bridged onto a sub with the amp working in three channel mode and still be able to control the sub as before using the fader.
5 or 6 CHANNEL
Can be used to drive a whole system that has front and rear speakers and a subwoofer amplified,all in one neat box without all the extra wiring that is needed for multiple amp installations.
MONOBLOCK
Can only be used to run a subwoofer as they only have a single channel,but will produce better controlled and more accurate bass than a bridged two channel amp.
If you want to power a sub i would recommend getting a MONOBLOCK amp
If you want to power front components then a 2 CHANNEL AMP will suffice
if you want to run a front and back speakers then a 4 CHANNEL AMP is needed
IF you want to run Front and back speakers with a sub then a 5 or 6 CHANNEL AMP will be needed
When choosing an AMP you want to ignore the "MAX" figures. We are only interested in the "RMS" figures. RMS figures basically means the average output of the amp, whereas MAX is a figure the manufacturer "claims" it will reach.
When thinking about the right amp for front components, its best to get something that is close to the RMS figures of the speakers
E.g if you get speakers that are 50w RMS, its best to look for a 2 channel amp that will do 50w RMS x2. This will give the best performance from the speakers.
If you run 50w rms components from the headunit, (which is going to be around 25w rms), then the speakers will not give the best performance.
the same principle applies with Subwoofers as well
OHMS AND IMPEDANCE
This bit will probably confuse the hell out of you!
Subs can come in Dual Voice Coil (DVC) or Single Voice Coil (SVC)
Subs will also come in with OHM ratings. Usually its dual 4 ohm or single 4 ohm
For example
This
sub
is a single 4ohm voice coil which requires 275w RMS for optimum performance. Obviously there are times where you cannot get an amp with the correct RMS for the sub so anything slighly over or under is fine
Ok so we know that a perfect amp for the above sub will be something that can do 275w RMS @ 4ohm
so something like
this amp
will do the trick
Right now for subs with DVC!
For example if you bought this
sub
which is Dual 4ohm. This means it can be wired as 2ohm or 8ohm. 2ohm will obviously be more powerful.
To get 2ohm you will need to wire the sub in parallel
to get 8ohm you will need to wire the sub in series
For best results use this website for wiring diagrams
http://www.the12volt.com/caraudio/wo...igurations.asp
or
http://www.crutchfield.com/S-v4I6TQF...rs_wiring.html
Now to confuse you some more. What about having 2 subs with dual voice coils?
E.g. 2 subs that are 4 ohm DVC
well
you can either wire them to 1ohm or 4ohm