This is my project thread off .org for my 1.6vvc build, thought I'd upload it here for anyone that's interested
My plan is to build a 1.6vvc and drop it into my r25 along with a pg1 conversion. I'll post pics up of other mods I've done in the past as well. Can't say how quick progress on the engine will be but got a donor all stripped down today so hopefully not too long.
Car started out identical to this one....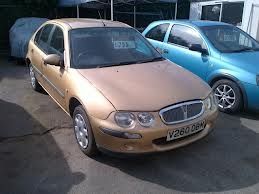 bought at an auction at the end of 2009 for £710 (was £575 but had auction fees on) it had 64k on the clock, quite a bit of service history and was in really good condition with full mot.
first thing i did was fix the resistor pack
second thing i did was fit an unrestricted throttle body and cable.
then at about 72,000 it suffered HGF
having not had any knowledge of working on cars but wanting to learn i picked up a haynes manual and gave it a go: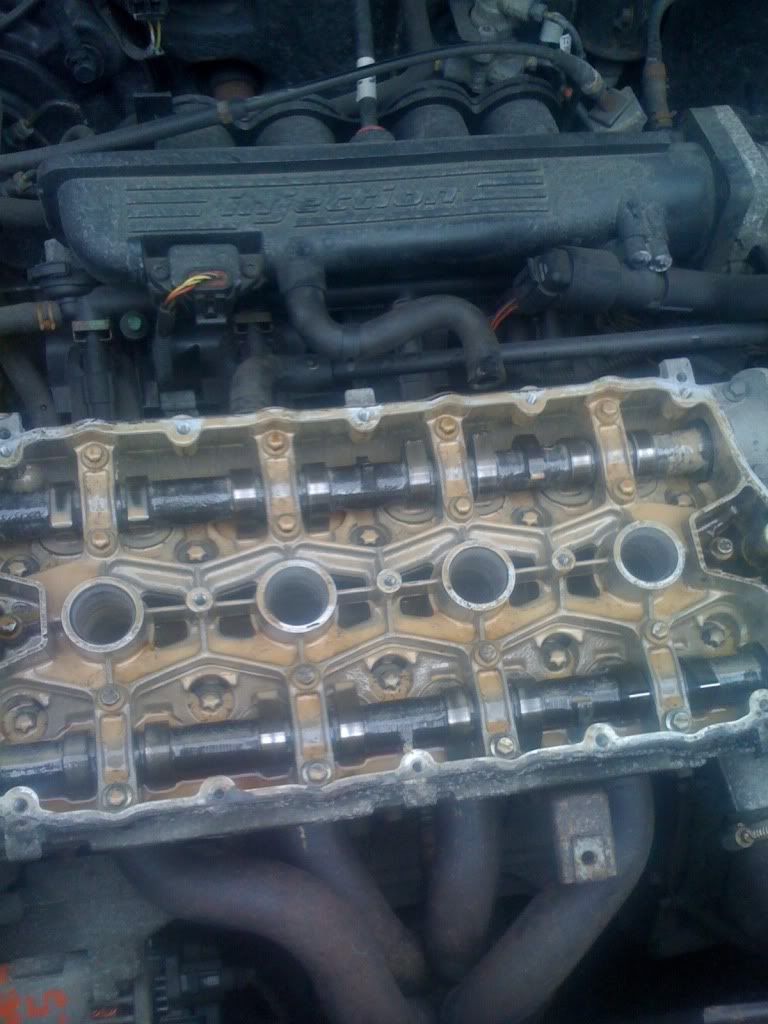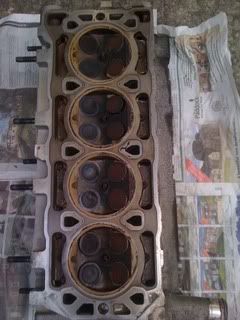 shiny skimmed head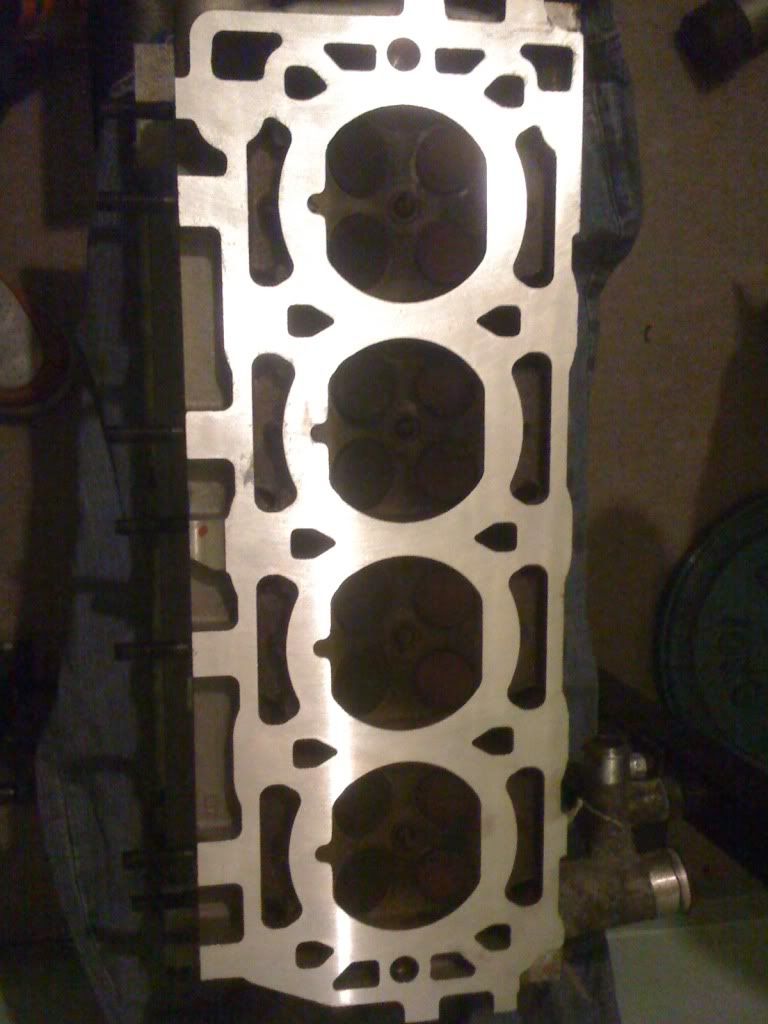 changed timing belt and water pump when it was all done: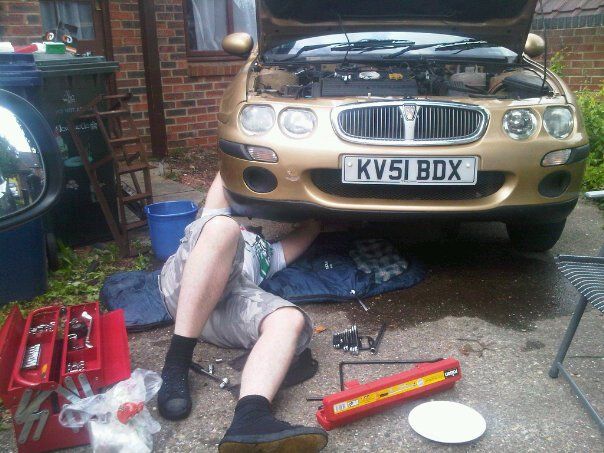 all went back together and worked. Even sailed through its MOT not long after.
All was well until this: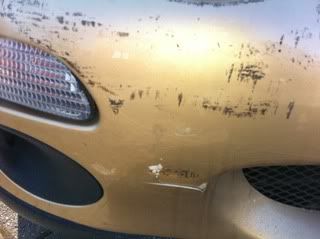 a tiny front end impact as a transit reversed into my while stationary. this caused the car to be written off (total joke for such little damage)
bought the car back and got a £500 payout so cant complain.
repaired it: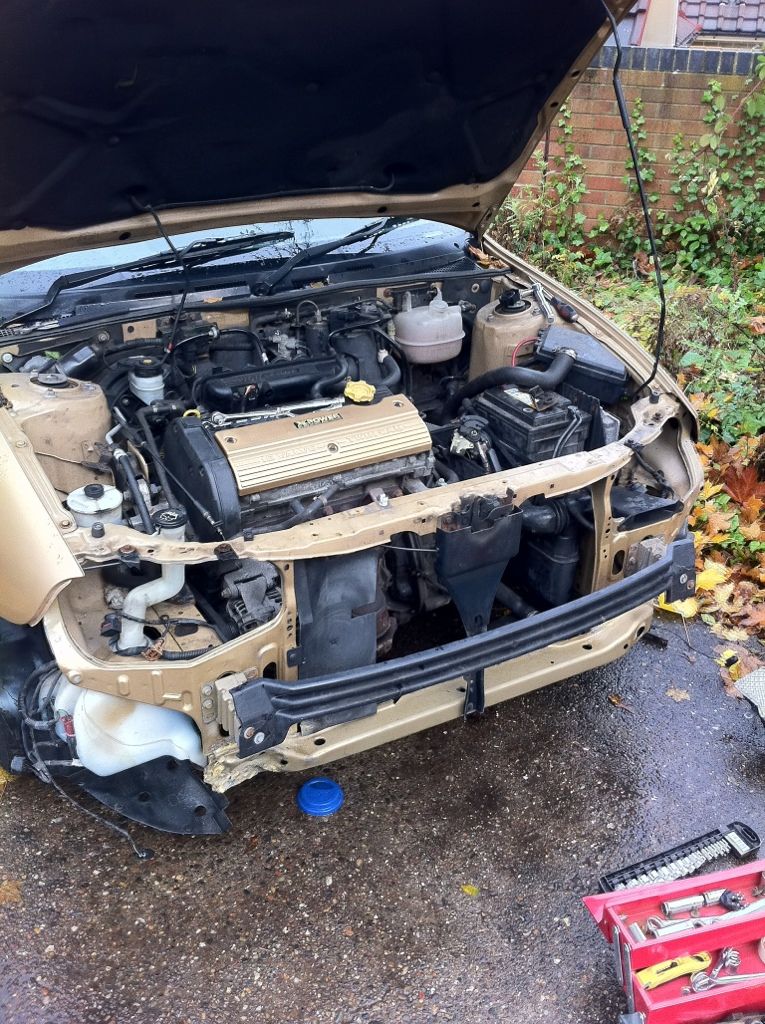 took the opportunity to fit a new radiator as well as mine had seen better days
colour coded it and added fogs and changed the grill up a bit and blacked the centre.
fitted a double din (it now sits more flush after moving the window ecu and looks better than this did):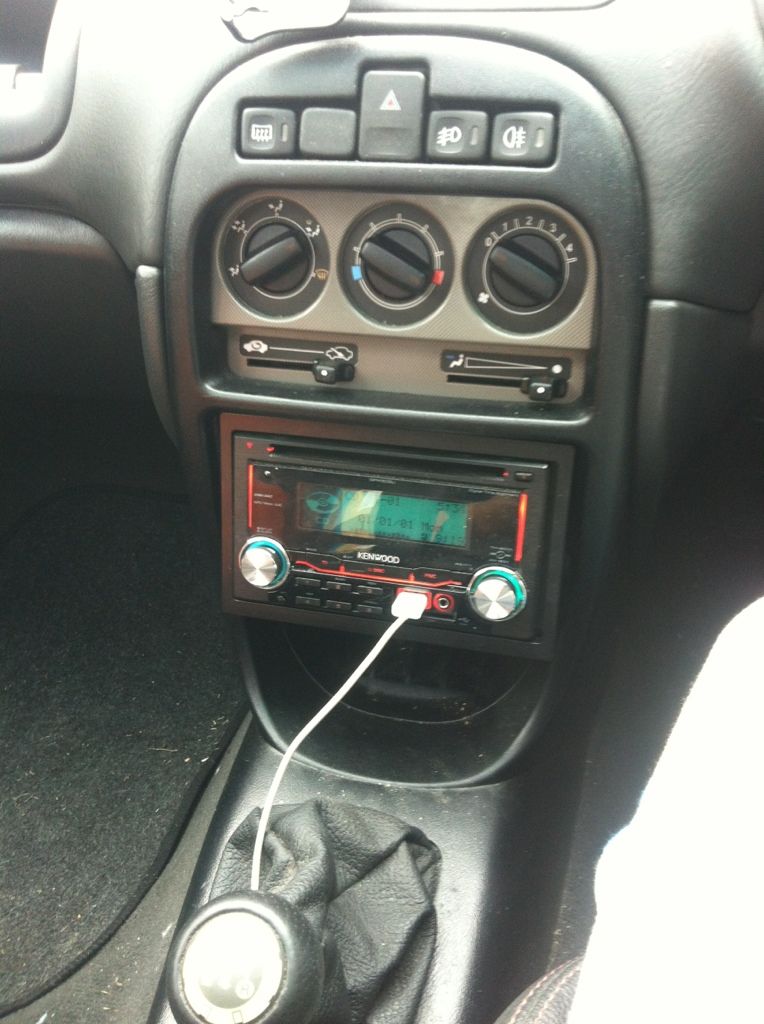 fitted a tf steering wheel and fitted original volume controls to that and got them working: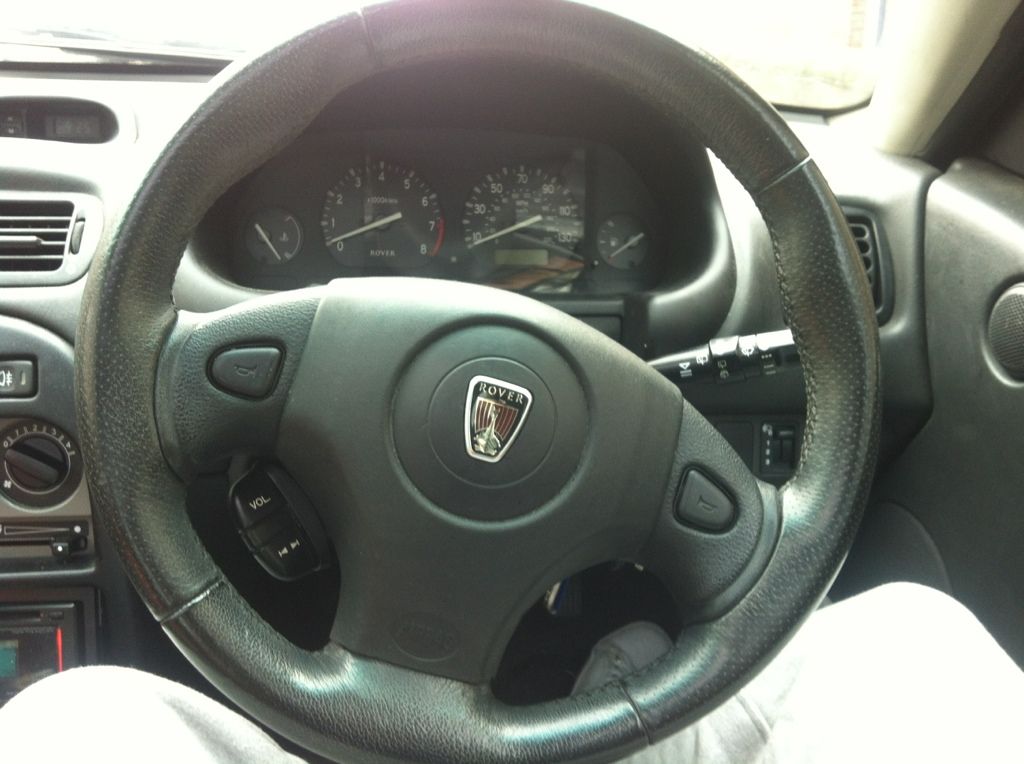 shortly after this the clutch went, couldn't be bothered with the work myself so got a garage to do it for £200, not bad.
Picked up a set of ZR struts and springs and matrix seats for wait for it..... £5.50 for the seats and £6.50 for the suspension (i love
ebay
)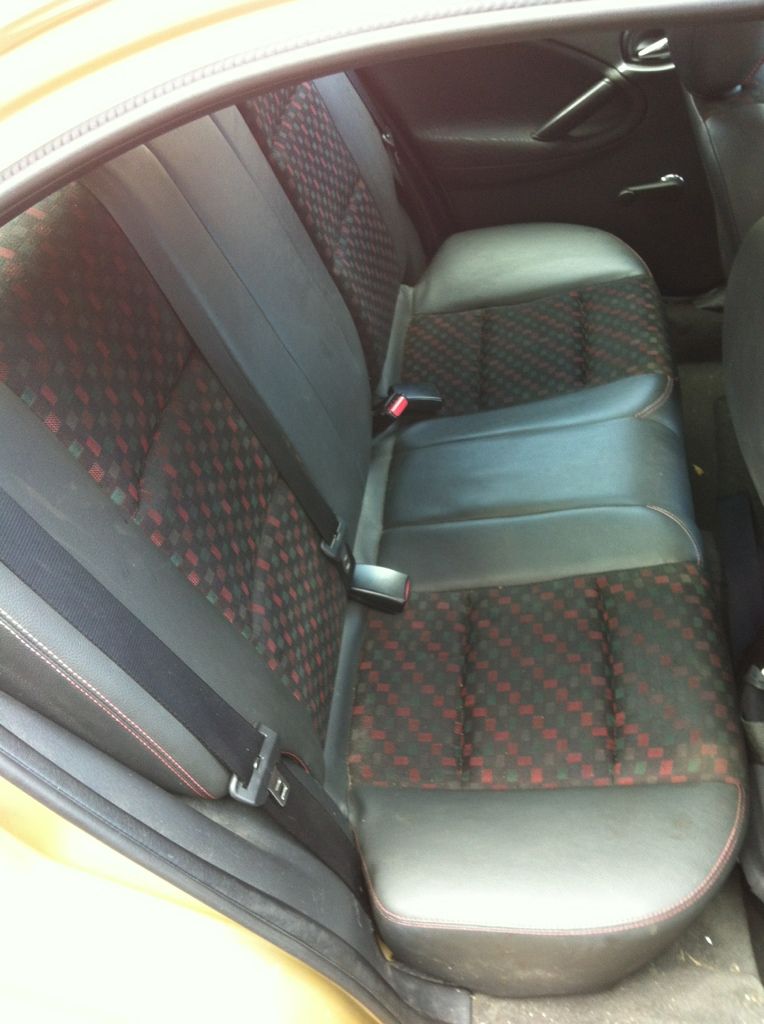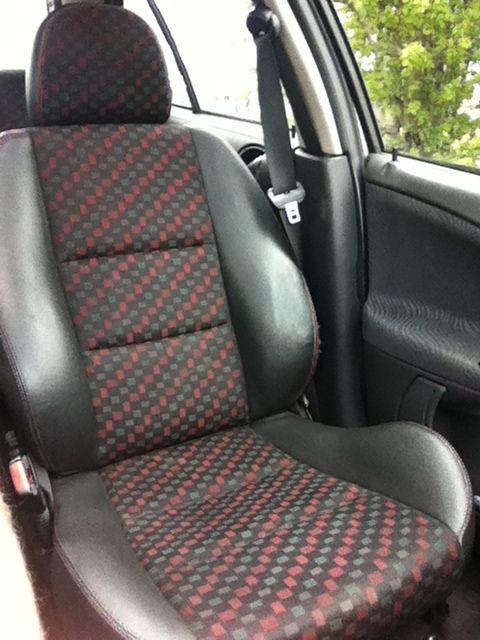 (no pics of suspension on)
then after replacing a leaking thermostat housing and and airlock going undetected, after 32,000 miles HGF happened all over again: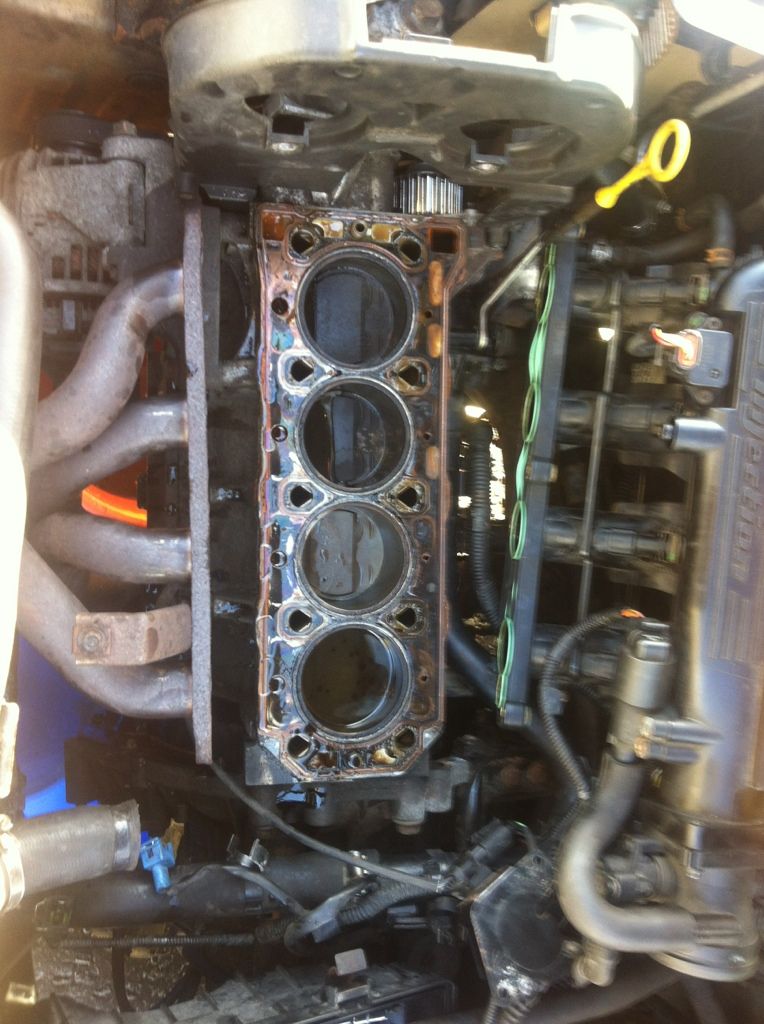 got it all back together, turned it over by hand, all was good, started it and apart from a tapping noise which disappeared it ran ok.
THEN... on the test drive I heard a loud bang, lost all power and just sounded like metal eating metal, got it back, popped the bonnet and there was oil everywhere, for those of you wondering what happens when you accidentally leave the allen key used to tighten the tensioner on the exhaust cam its this: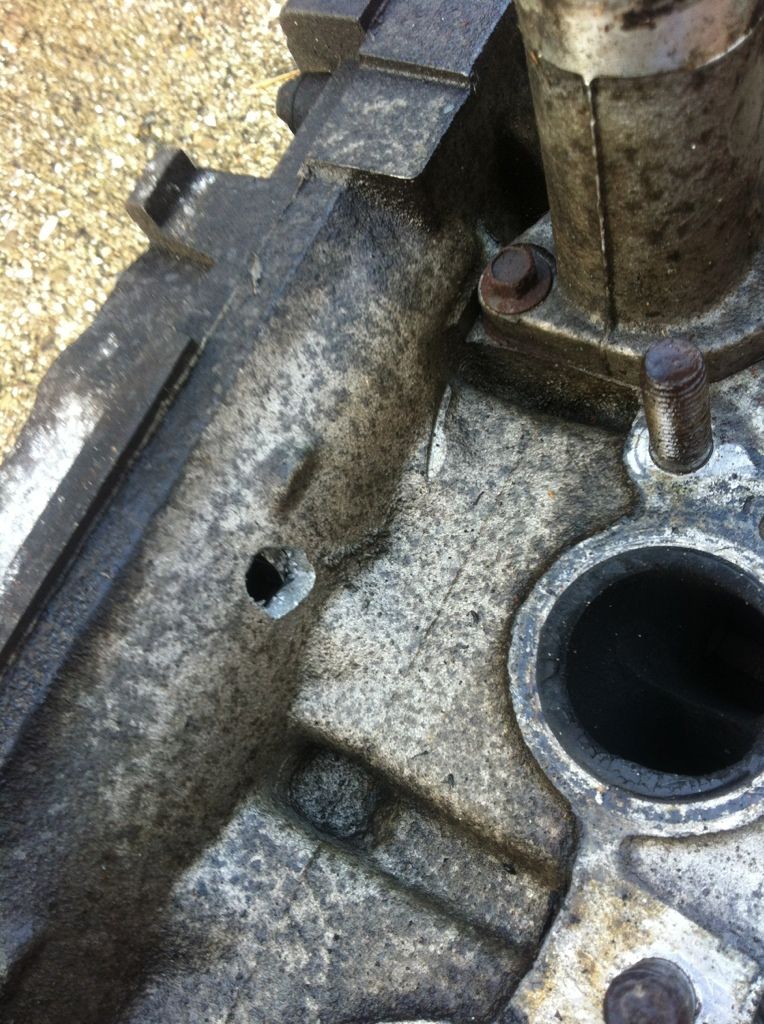 yup, the exhaust cam ate it, jammed and spat it out the side of the head.
Needing the car back on the road asap i grabbed a head close by off ebay, turns out it had fire ring damage, not too bad but not good. used an elastomer gasket and gave it a go, its been running since then but with a slight leak so i don't push it very hard at all.
once it was running I got back on with modding.
fly eye'd by rear lights which i thought looked really good, did the fronts but it failed the last mot on them so had to peel it off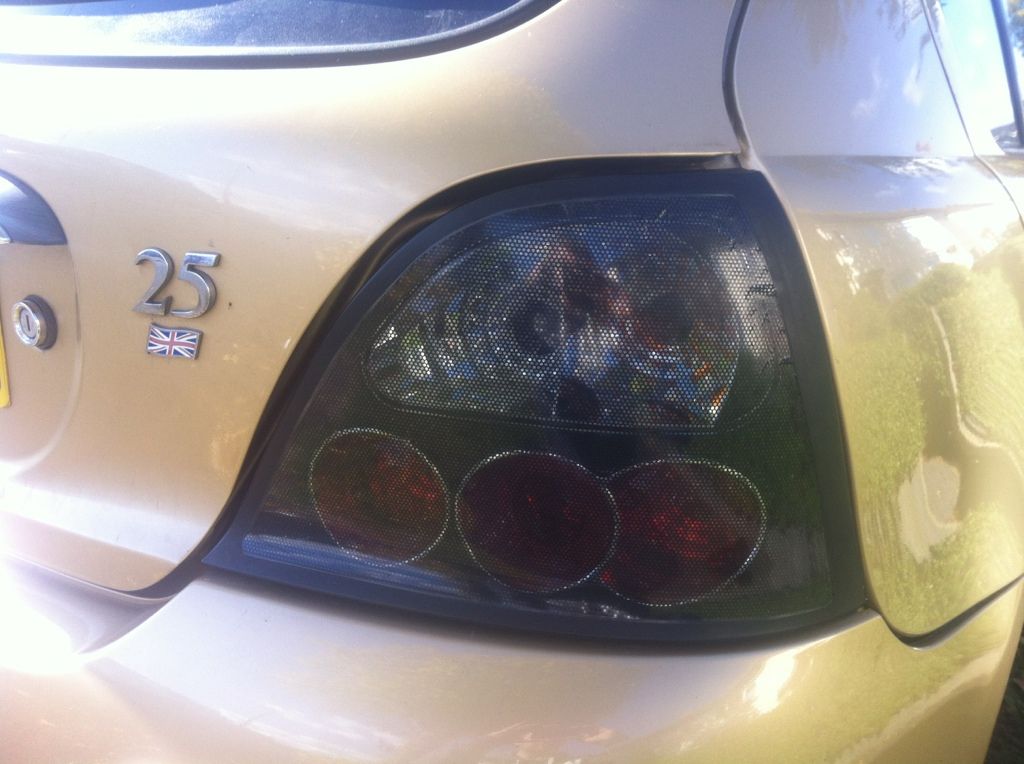 picked up a cheap set of alloys seen as it failed the mot on tires and i was after a set for ages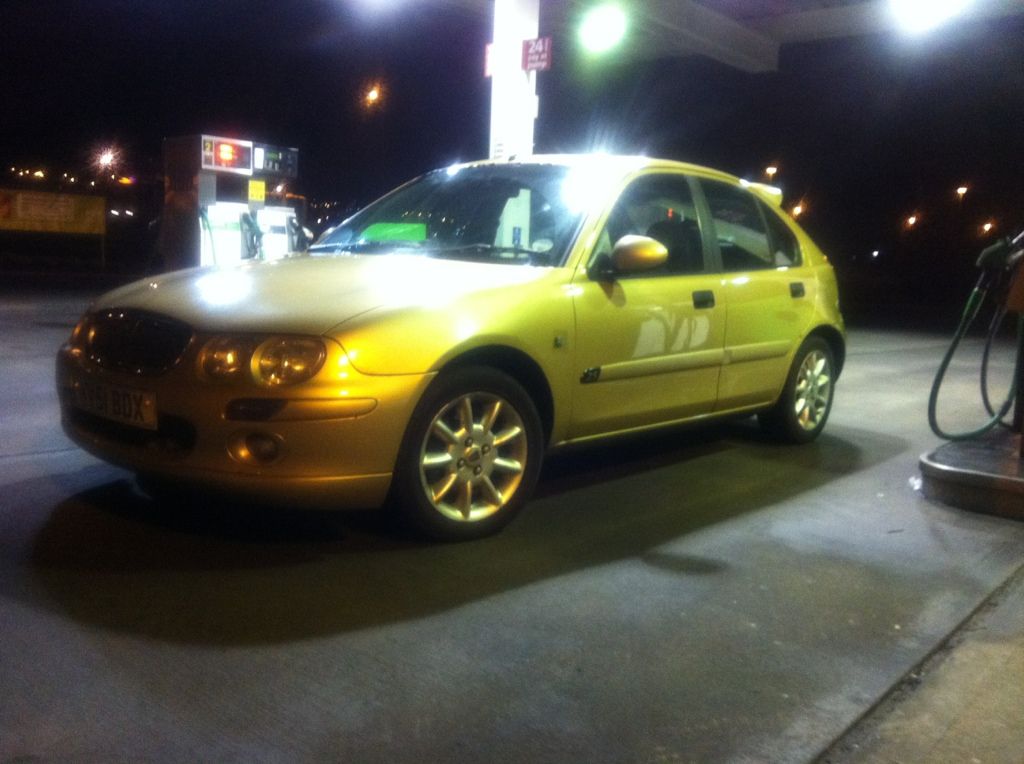 Hairpins were what i was after but i really like these, if it was dropped another 20mm I think it would look really good, either keeping these or going with brm wheels.
decided i wanted to make a custom boot fit as my subs were taking up too much space: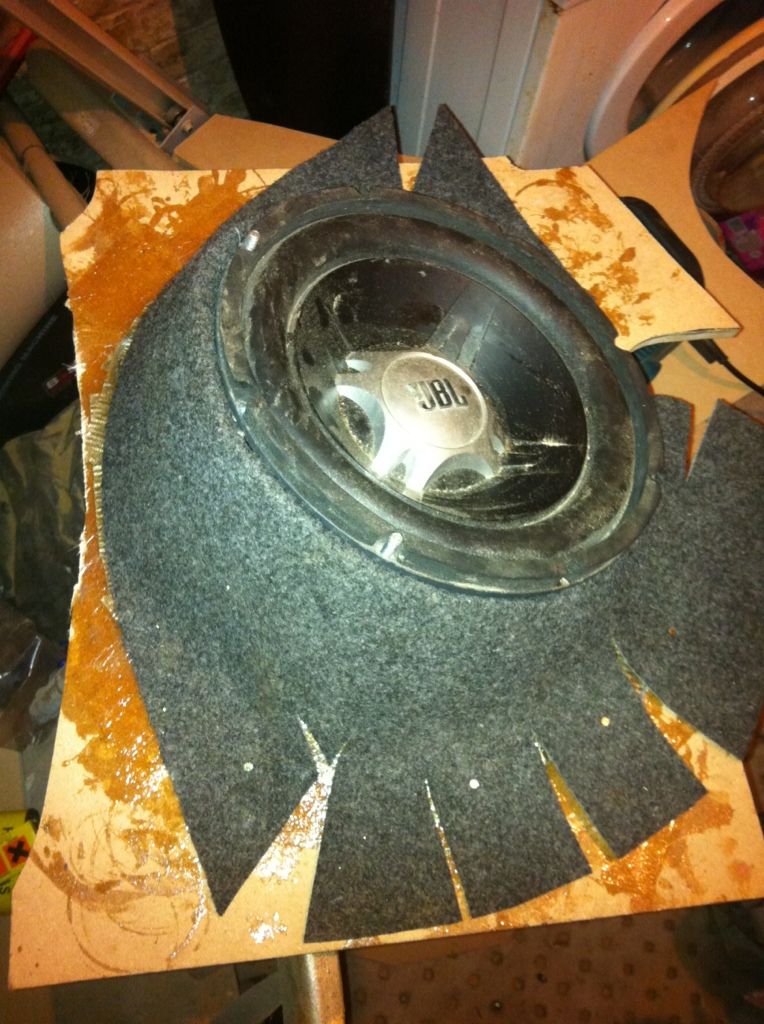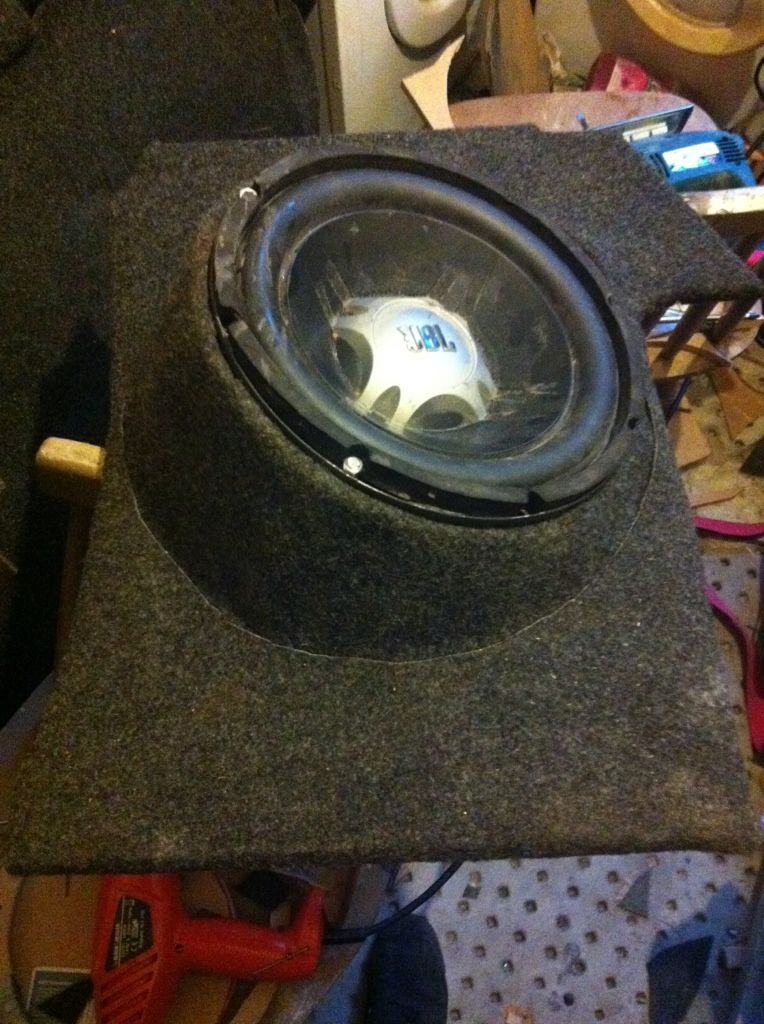 finished and fitted:
with a rear strut to finish it (this was before i cleaned and hovered the boot).
Just recently picked up the ZR skirts along with front and rear lips, this is how it sits today, original spoiler will be put back on once colour coded, the ZR one was free so thought i might as well try it, I just prefer the original on the r25's and love it with the ZR kit: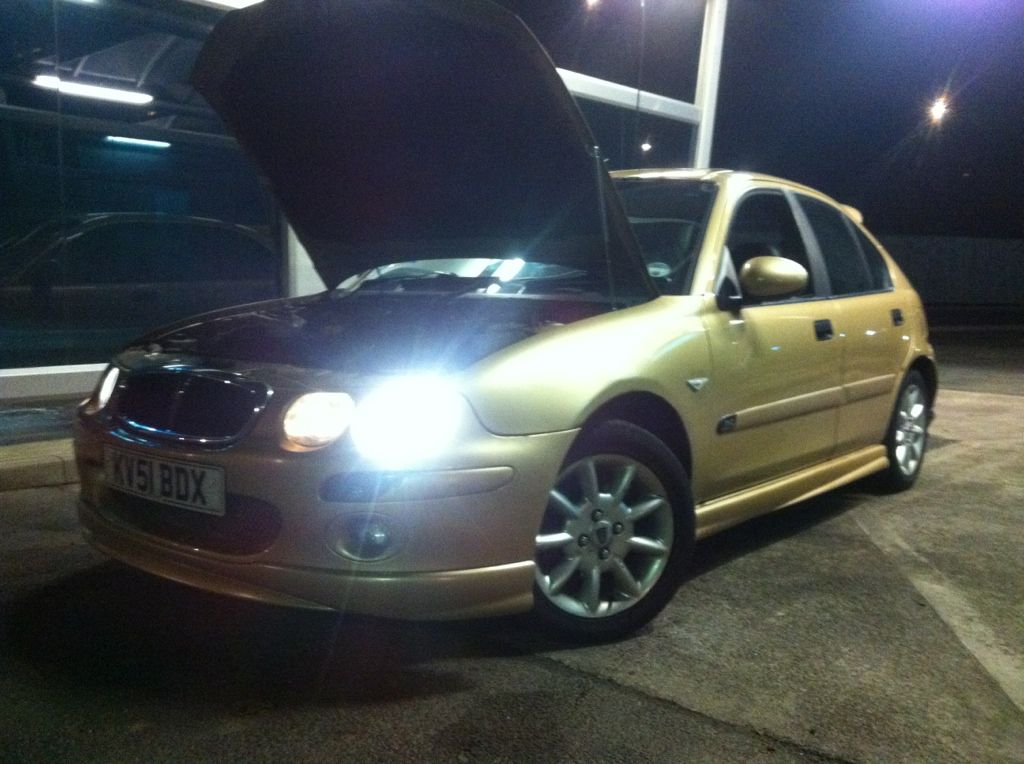 only further exterior plans are to drop it about 20mm so those wheels fill the arches a bit better and get the rear arches sorted along with 2 new front wings before the rust gets bad. Also some ZR headlights, the chrome ones drive me mad.
Picked up the engine today:
this is what £90 buys you, can't complain, not sure how many miles, it was a runner, no problems, already had the headgasket, timing belt and water pump done. Shame i set about tearing it all apart.
this is what i ended up with:
only problem i had was getting the liners out, they were really wedged in there (so much for just pulling out) and the idiot who sold me it didnt drain the oil before removing it so ended up covering my mates garage in it when i took the sump off.
Already got the 1.6 pistons and liners, they will be dropped in soon with new rings and bearings, got the vvc head. Got the pg1 gearbox off a 160 along with everything except flywheel and clutch (which i'm working on getting) only thing missing is an ecu mapped with the 1.6vvc map from *** then it's good to go.
I'll be building the engine in my own time then dropping it in over a weekend when i'm done. I'll try to take as my pictures as possible during the build and keep updates coming as quick as I can.
Not much to update on the engine front, got all but one of my big end bearings, just need a blue one now which I'll get off rimmers tomorrow along with new piston rings so I can get the 1.6 internals in
I did colour code the interior cream pannels including the headlining, always thought they'd look better darker, really happy with the finished result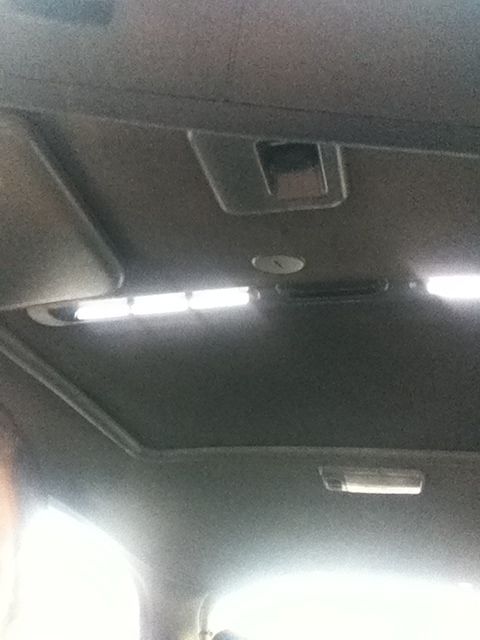 Pictures aren't the best but you get the idea.
Also gave the car a proper clean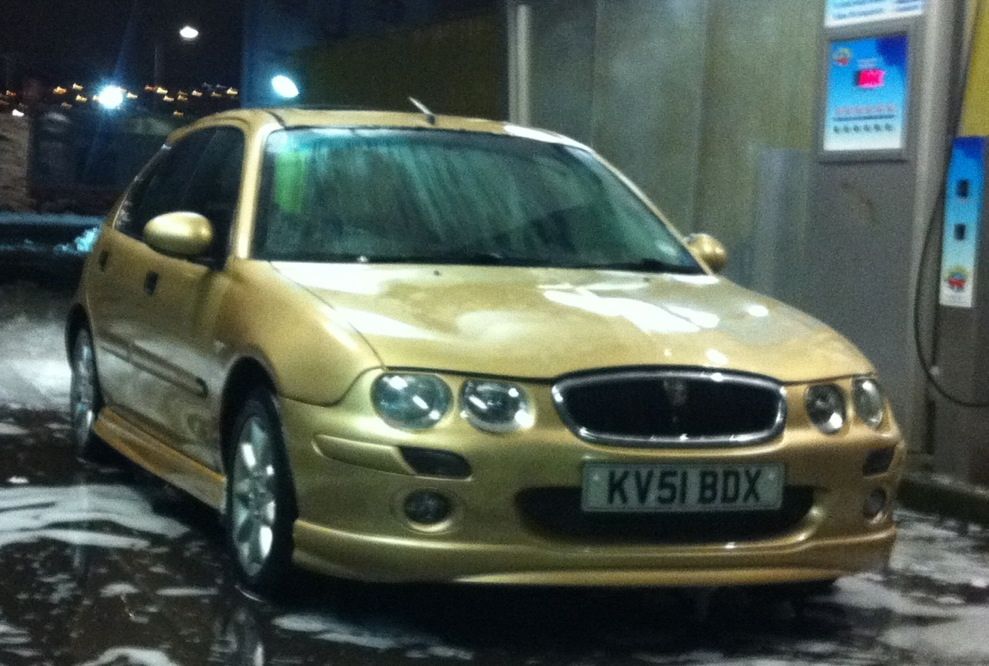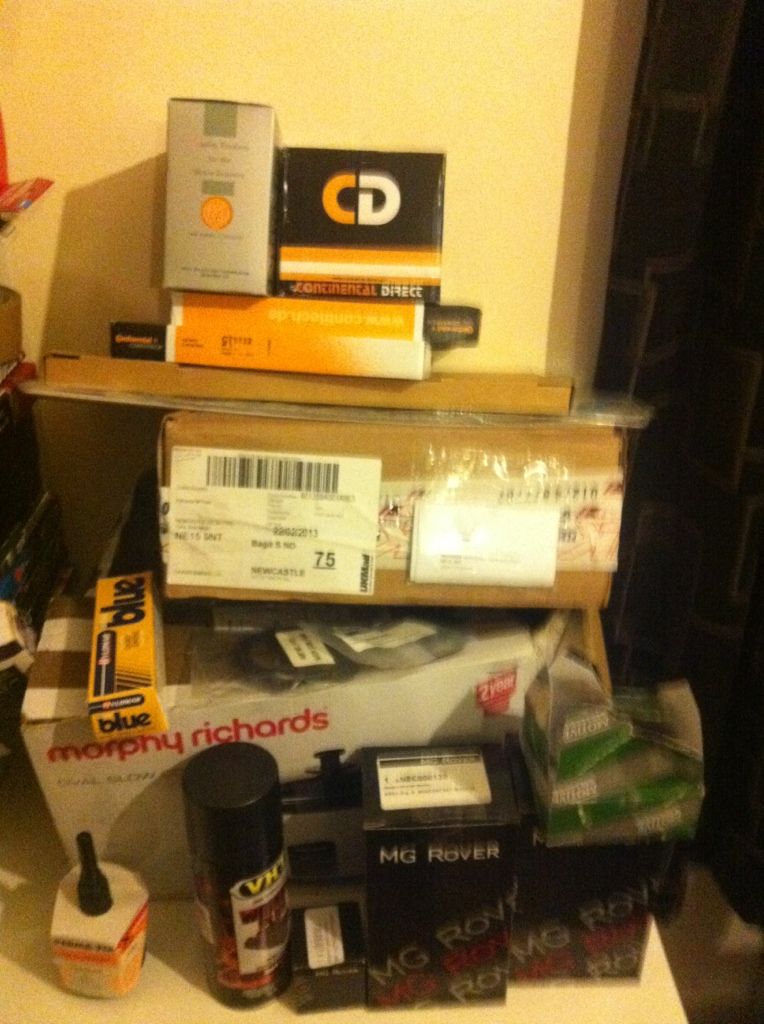 Now that's a pile of parts, I'm pretty sure I have everything to finish off the engine, got new liners, pistons and rods, new shell bearings, piston rings, coil packs, clutch, timing belt and water pump and all gaskets.
I'll probably go ahead and pick the block up from my mates tonight and hopefully have the bare engine built by friday if I get the chance, I'll try and remember to take plenty pictures, it's getting there though, I can see the end is near, can't wait to get it in, especially after the way mine is drinking petrol now, I'm lucky if I get 100mile to £20
Got round to colour coding my r25 spoiler and putting that back on
Much prefer how it looks now.
Should be picking up my block from my mates and get cracking with building it tomorrow.
Looking to get my door handles sprayed on friday and I'll be redoing my rub strips as I rushed it last time and did a very poor job
Finished the bottom end today, was an absolute ball ache getting the pistons in for a while, I had to clean every last bit of carbon off around the rings just so they'd fit into the bores with the new ones.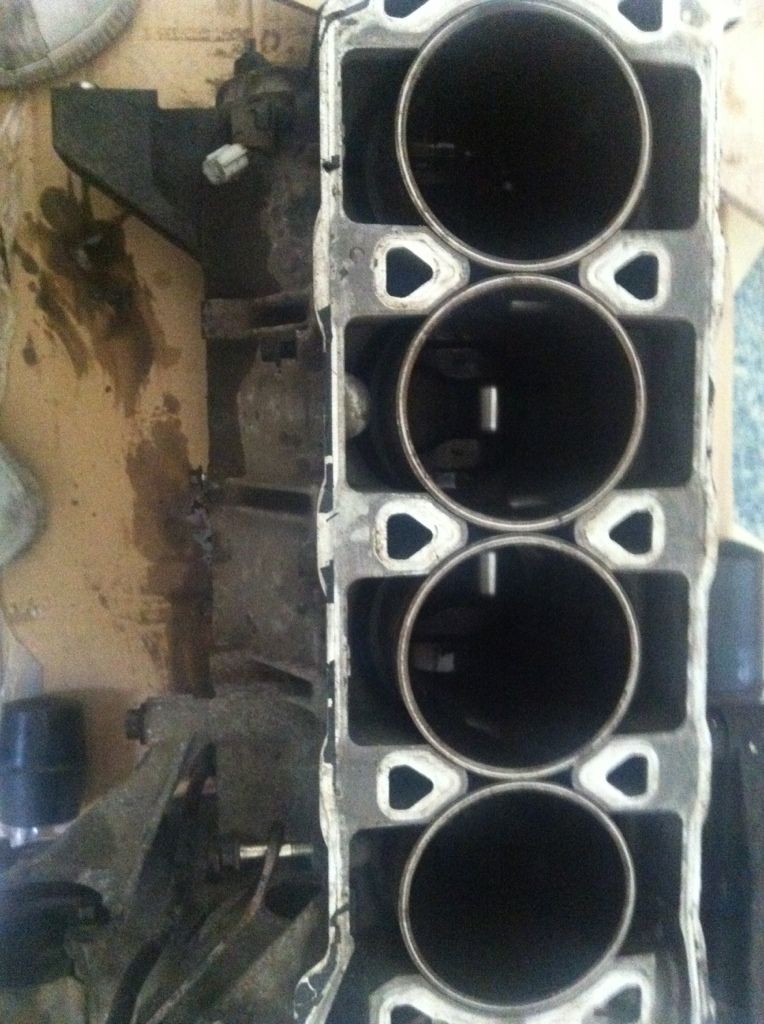 Liners in
Before...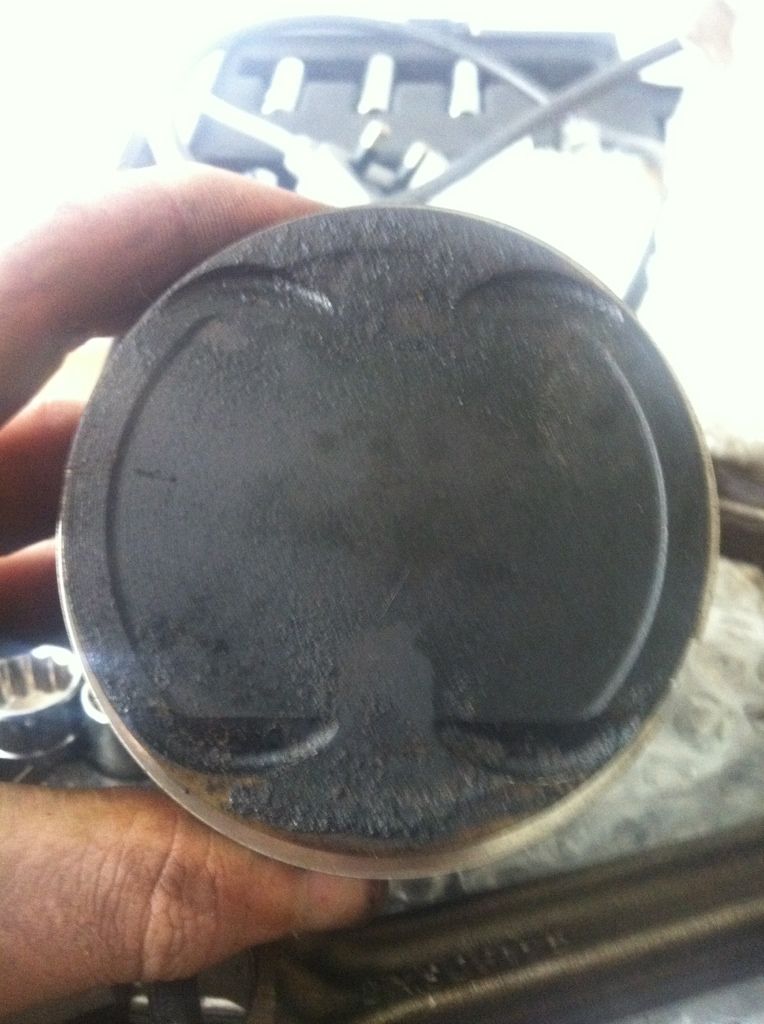 After...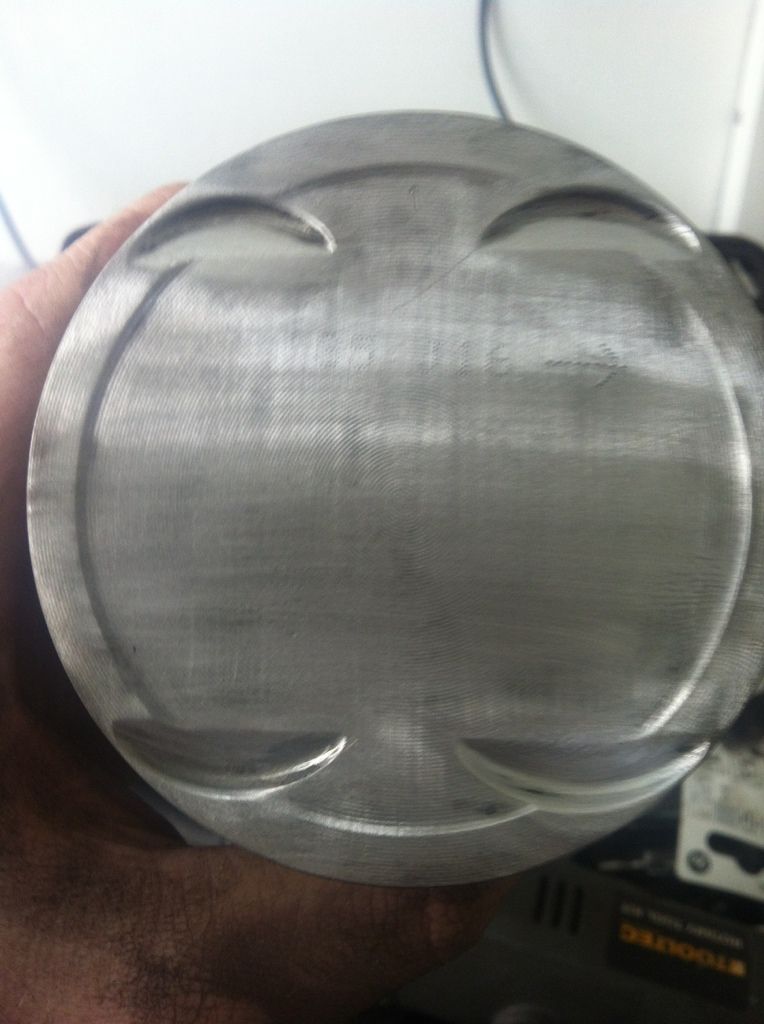 And completed bottom end...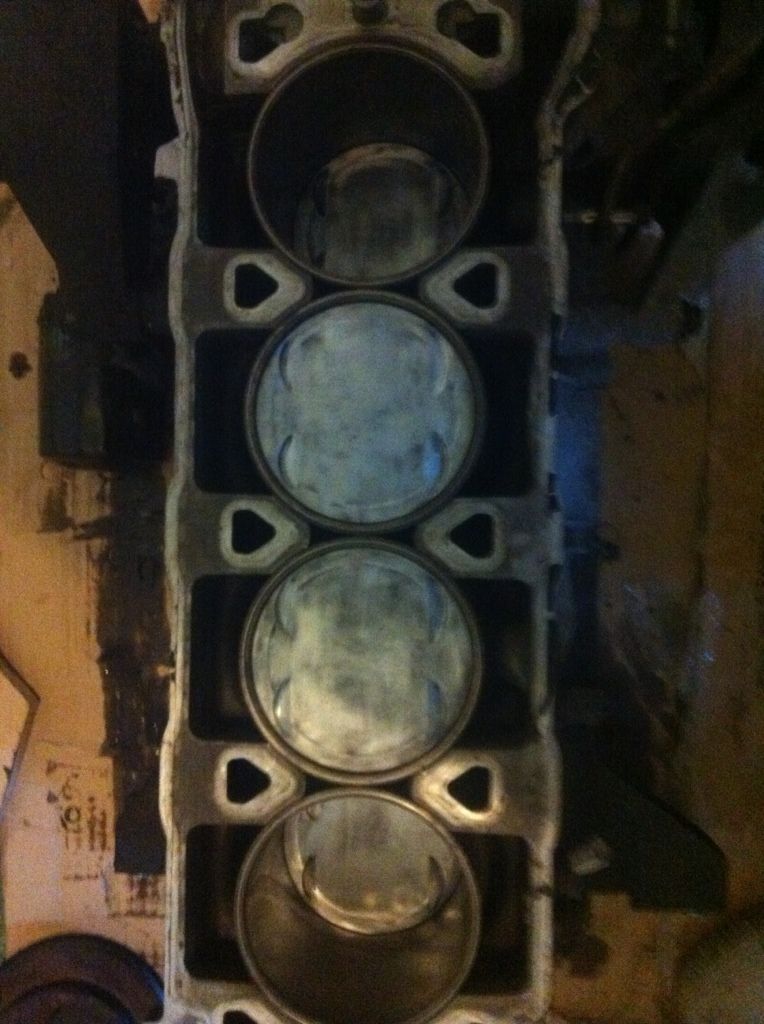 When I get back later I might get the rest of it built if I'm not too tired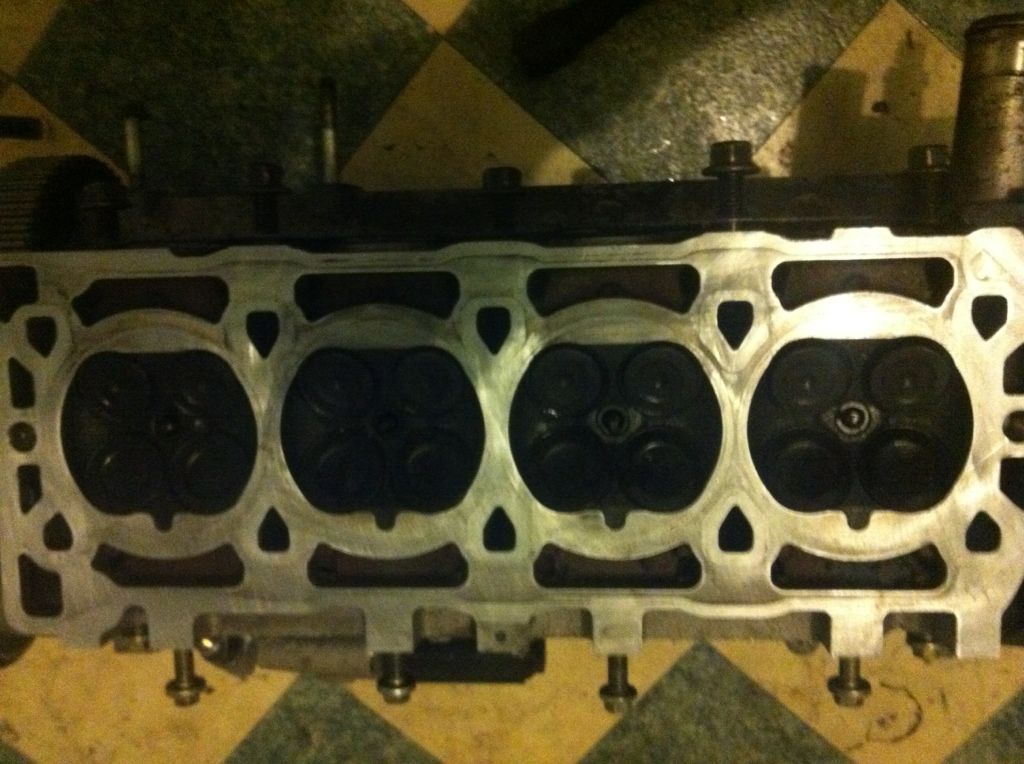 Cleaned up vvc head ready to go on
Head on and it's looking more like an engine now
Not much to update on the engine front as I'm still waiting for some half decent weather and my ecu before I can drop it in.
I have however started (and almost completed) a custom grill
I saw a green 03 zr in my local breakers (shame as it was in really good condition) and toy surprise it had the separate grill, picked it up for a tenner and set about cutting it up.
I always preferred the thicker grill but wanted to keep the rover badge so here's what i did...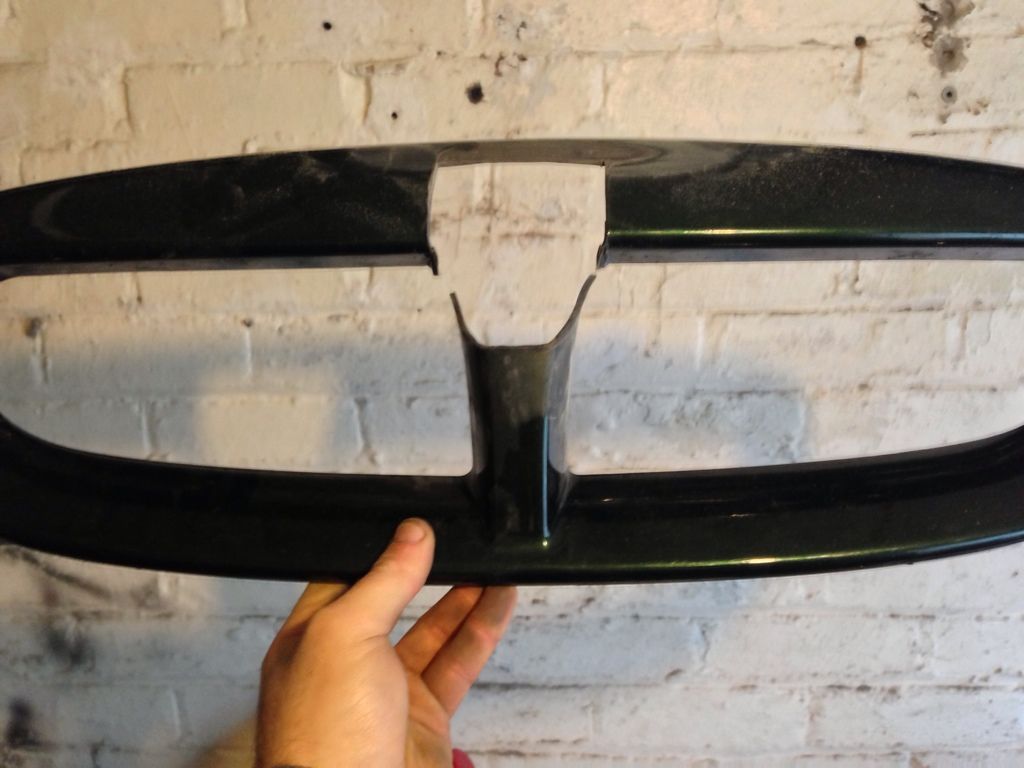 I cut the whole mg badge out along with some of the top to make it flush
I then cut the rover badge and surround from my original and fibreglassed it in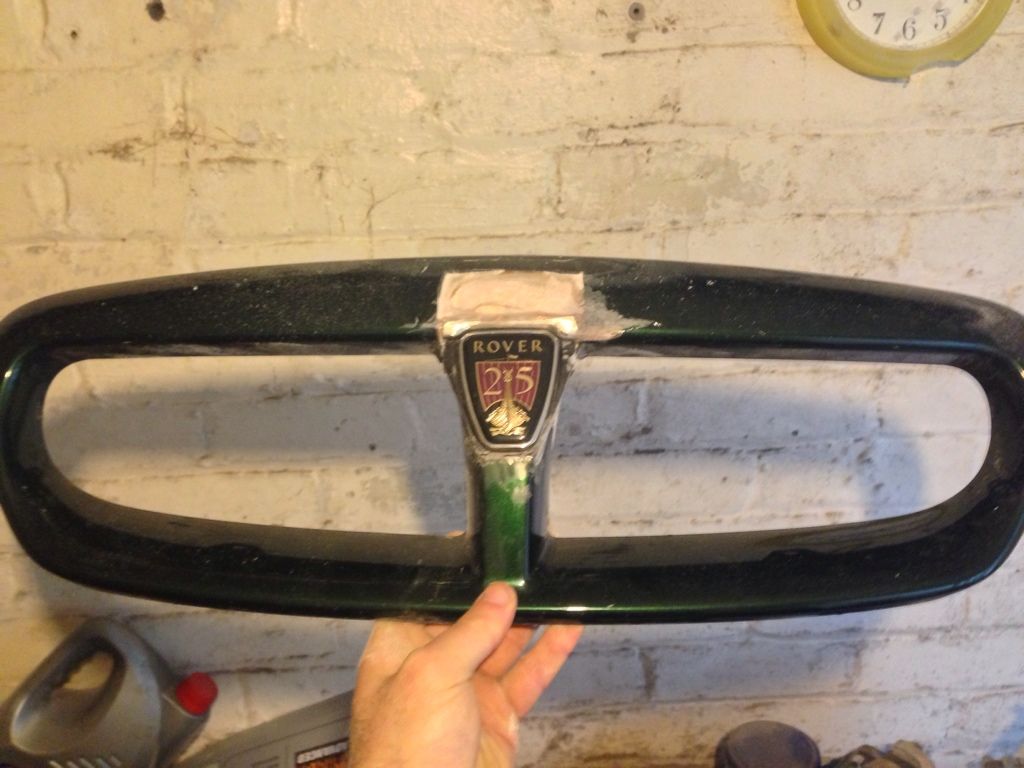 I then had to use filler to smooth it out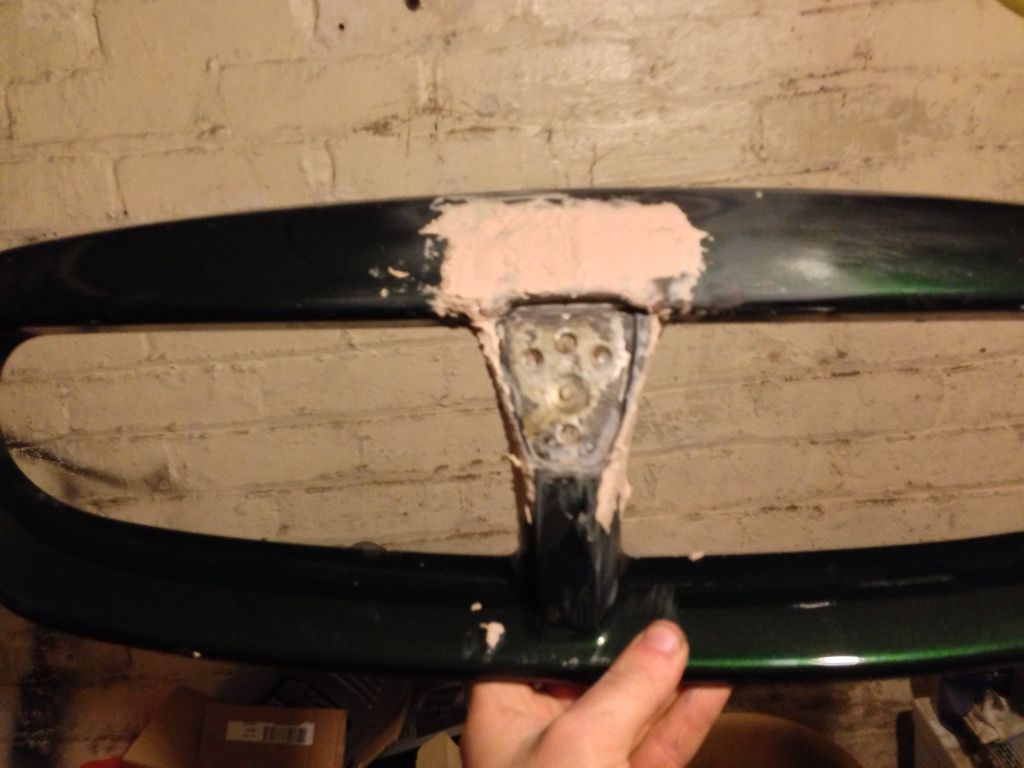 Admittedly I'm not the best with filler so it was very rough, sanded it down then patched the bits that needed it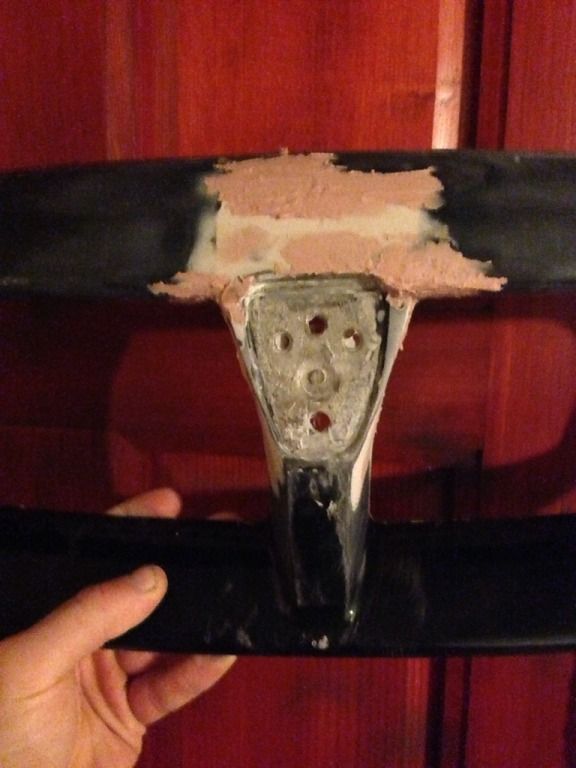 More filling and sanding then I was able to lay the first coat of primer to see if it needed more smoothing
There are still a few tiny imperfections which filler primer will sort, then I can lay the colour and clear on and it should be looking good, it's a lot of work for just a grill but I wanted to try something a little different
And the grill is finally finished, got a couple of pics but they aren't the greatest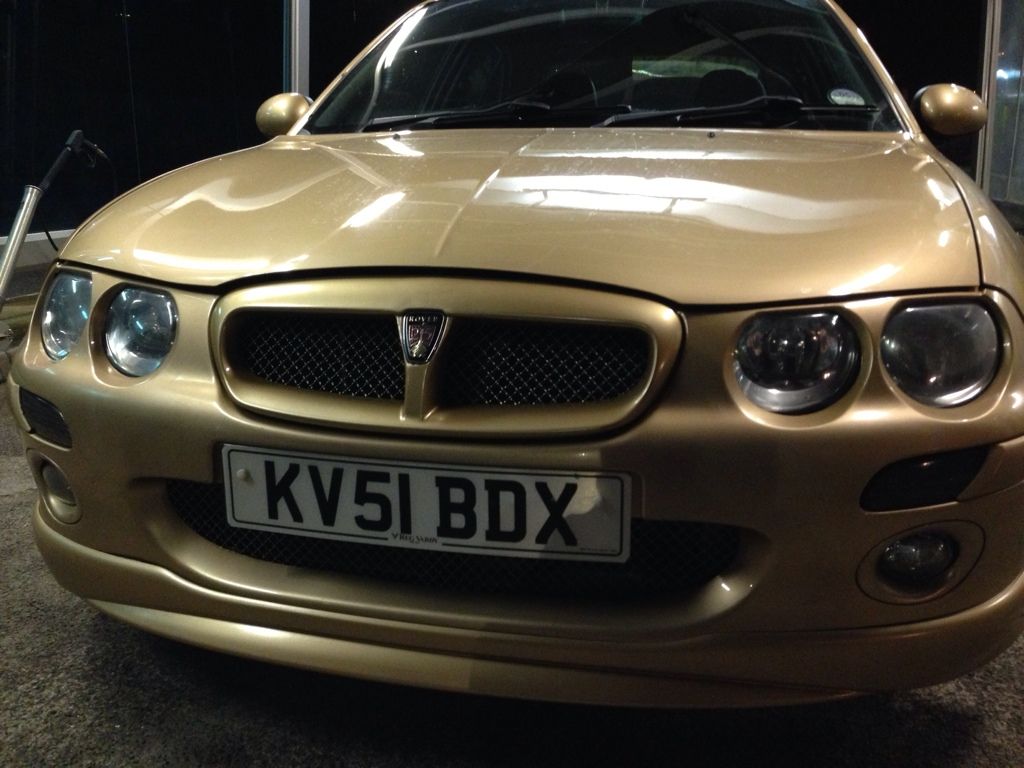 Still need to sort out my bonnet gap but well happy with how it's turned out
Not a massive update as funds are tight at the moment so the ecu is the only thing holding me up on dropping the engine in. My clutch however is making some worrying noises again so if that goes what I may end up doing is dropping the pg1 box in as I have everything for that and possibly drop the engine in with a standard head on. Time will tell.
Still been trying to keep busy so had a few spots of rust on my bonnet struts which I wanted to sort, decided to sticker bomb them along with my rear strut brace, pretty happy with the results....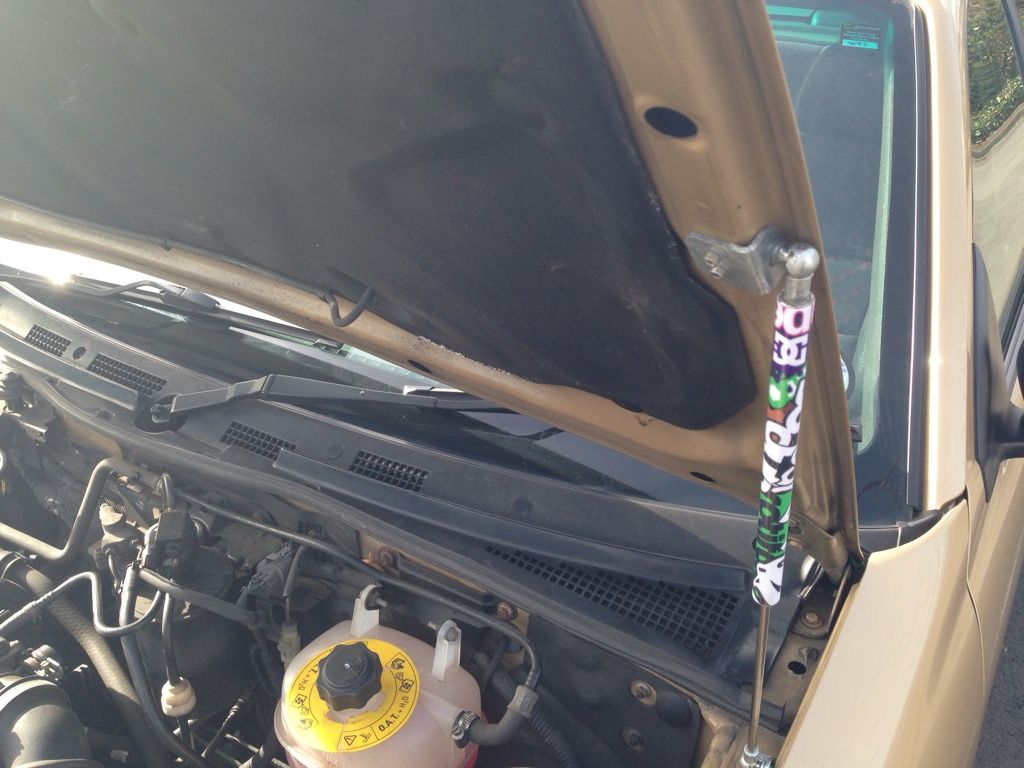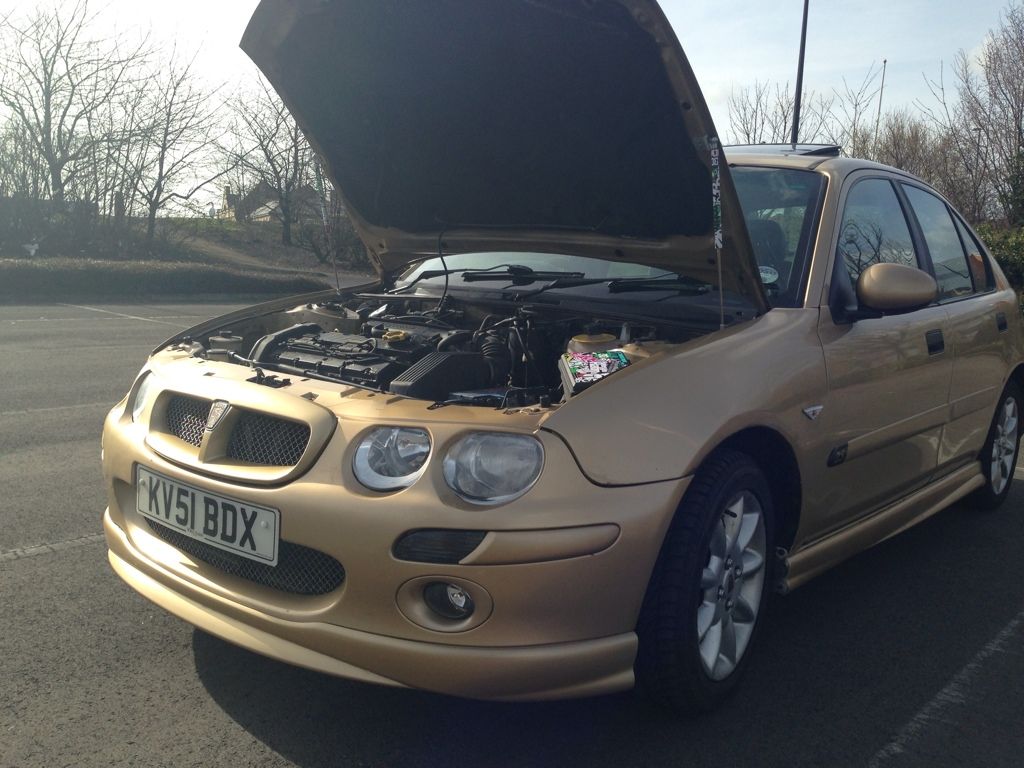 Did my fuse box cover as well as it looked quite plain
Strut brace....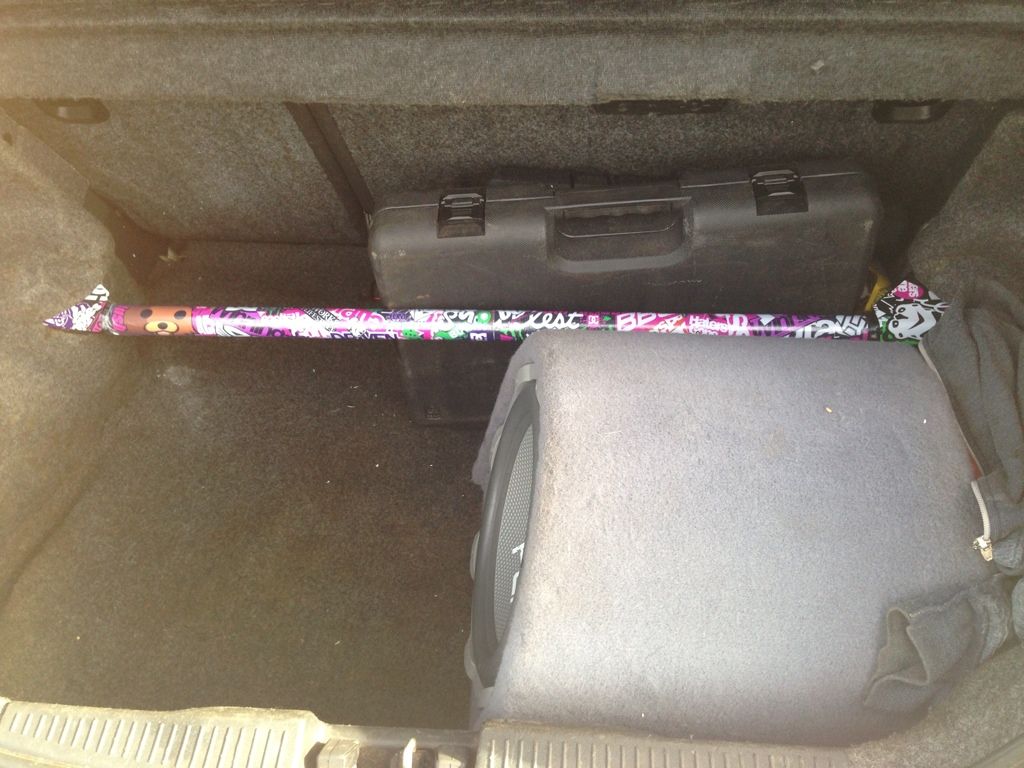 Progress has been slow on this as I haven't had the time or the funds but its getting there, had a good few hours on the engine today and got it cleaned up for painting, all timing marks are lined up so I'll have the timing belt on tomorrow to turn it over by hand, so long as its ok it should be ready. I also have a package waiting for me at the post office so hoping its my ecu
Hopefully get the clutch on tomorrow and make sure the gearbox goes on no problem
Needs cleaning up around the exhaust ports which I'll do with my wire brush tomorrow but happy with how it's looking
Another small update, got the timing sorted properly, both belts on (although I'll have to remove the main timing belt to fit the cover) got the inlet manifold on, got the clutch on, test fitted the gearbox and it when on no bother. Still waiting on the ecu which should be with me this week then it's ready to go
Quick picture of the fully assembled engine with gearbox on, it's pretty heavy to lift with the gearbox on so I'll be taking it back off so it's easier to carry the engine, also need to fit the new clutch release bearing too
Another very small update, got bored today so set about fitting the sparco pedals which I picked up on eBay a while ago for the bargain price of £6
To anyone who is considering a similar mod I'd suggest not bothering unless you have a decent bit of time to kill and don't mind fiddly jobs, for a set of pedals it took way longer than I thought especially due to the bolt layout on the sparco pedals and the location of the metal stalks behind the pedals that they sit on. The accelerator pedal is held on with 2 bolts with one bolt head glued in place and the clutch pedal is the same but held on by 1 bolt and one bolt head glued in place to make it look tidier.
Picked up some goodies today: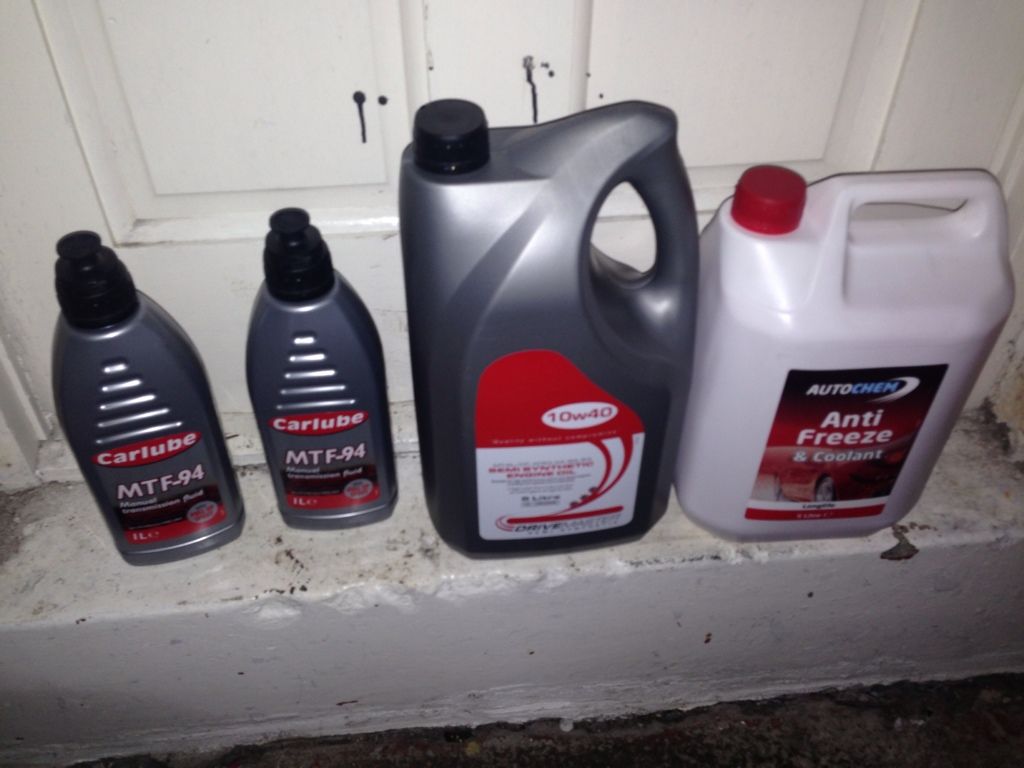 Got engine oil, gearbox oil and coolant, Almost set for Saturday now to drop it all in, only thing left to do is tidy up the loom a bit tomorrow when I get some tape then that's about it. Picking up my engine hoist tomorrow (£21 for the weekend so can't complain) then I'll be transporting everything I need to my mates where I'm doing it, plan on making an early start on Saturday morning and best case scenario is I have it done in a day, otherwise I still have Sunday and Monday off to work on it. Any pointers or tips off anyone would be helpful
IT'S ALIVE
put up a little bit of a fight but I got there, had the help of a mate when dropping in the engine otherwise I don't think I'd have managed it on my own, few pics of the conversion:
transporting everything in one go made the car look pretty low to say the least.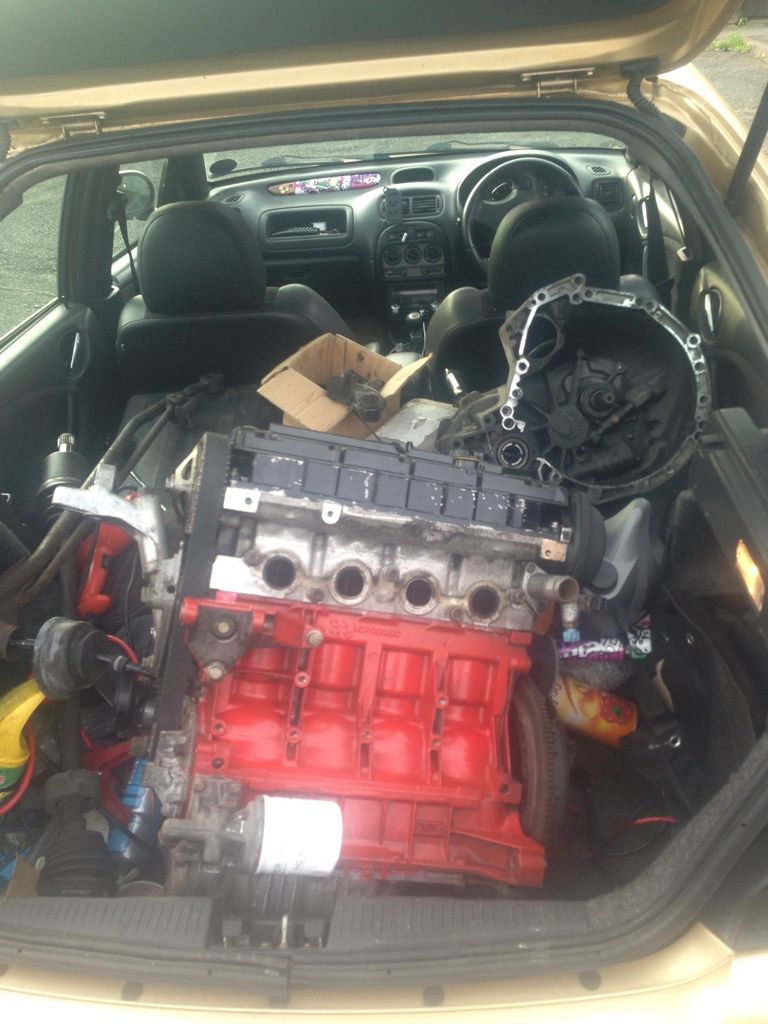 poor throttle body filled with gunk, no wonder my friends called my old engine the soup kitchen :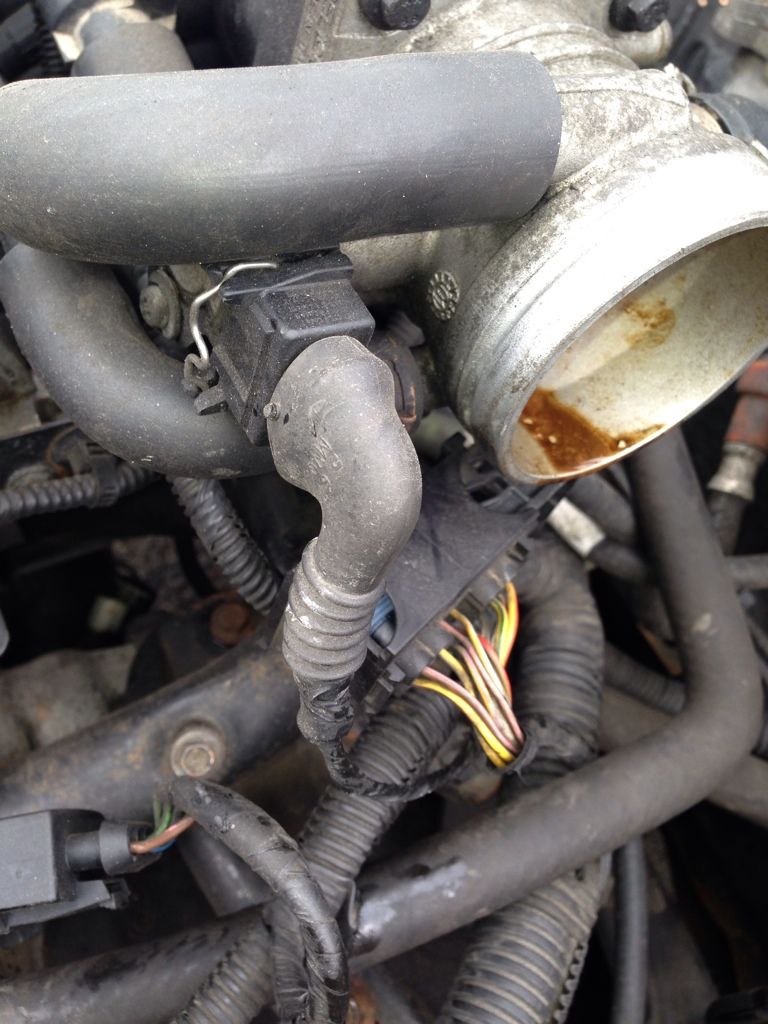 battery tray out and loom unplugged, irwin bolt extractors are by far one of the best purchases i've ever made, handled the rusted bolts on the battery tray with ease:
drive shafts out, made a bit of a silly when removing a track rod end but i'll get to that later: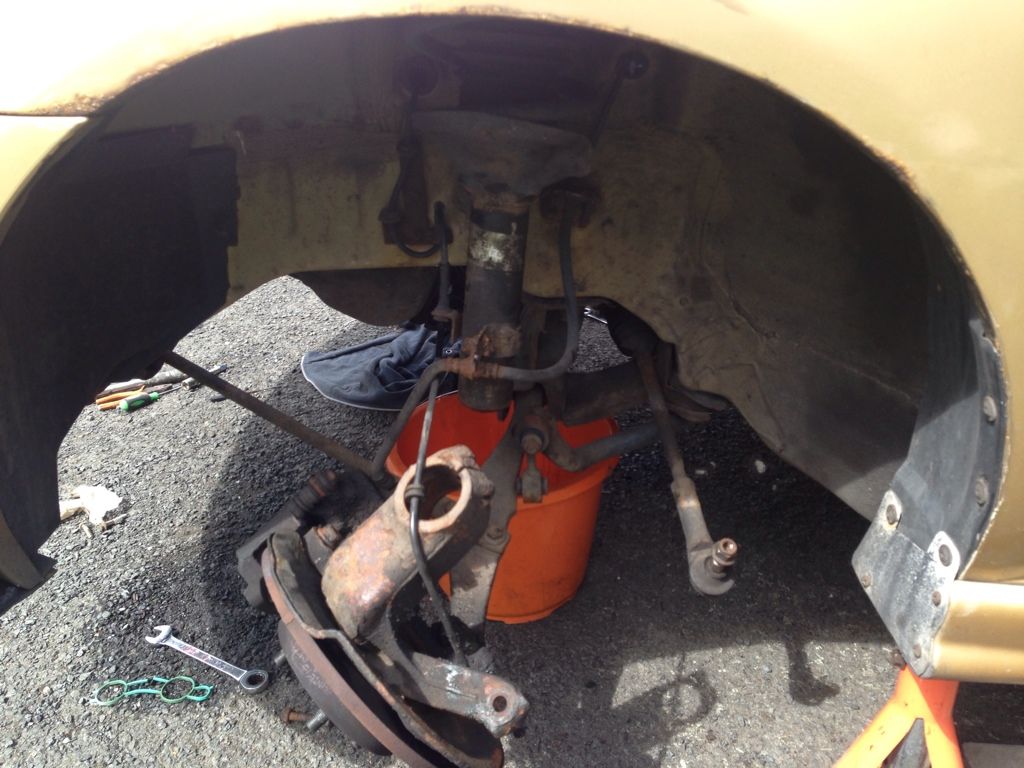 the old soup kitchen coming out: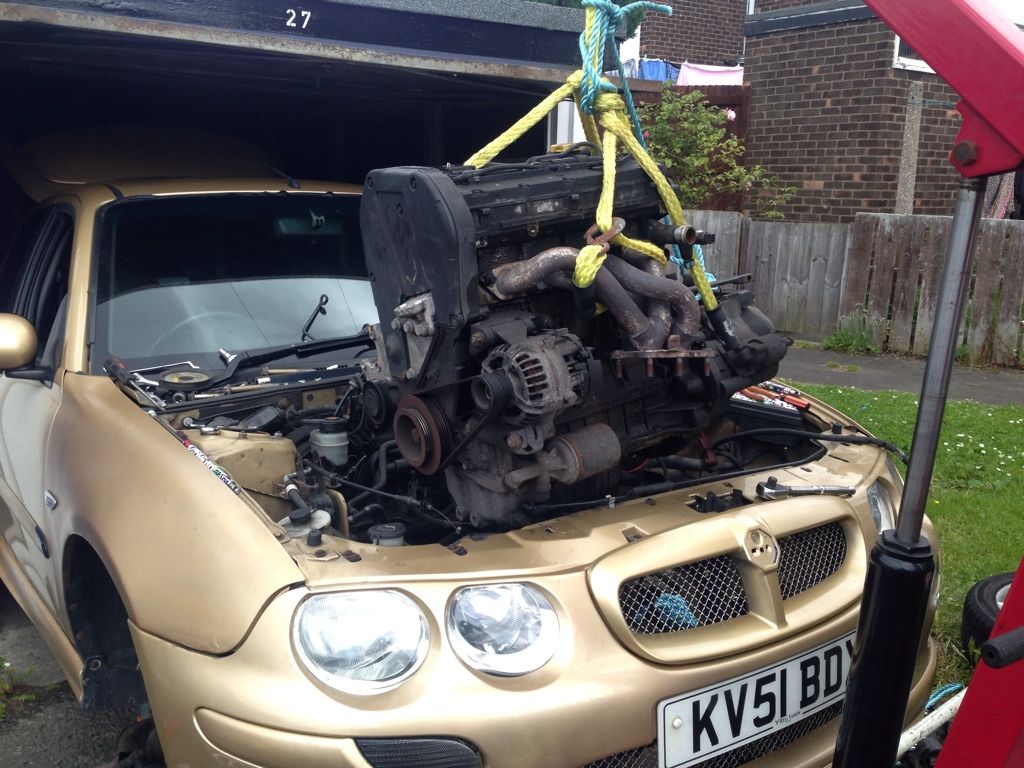 overall managed to get the old engine out in about 3 hours and that was just taking it easy, everything came apart surprisingly easy.
engine out:
had a little prep work to do after that which just involved swapping stuff over from the old engine like the alternator etc.
new engine in:
didn't get many pictures at this stage because that's when it started fighting, mounts just wouldn't line up and it just didn't want to go in but got there in the end.
Wired everything up connected the drive shaft's, connected the coolant system up, filled with gearbox oil, engine oil and coolant, went to start it and 'click' absolutely nothing. i was then filled with false hope when I realised i missed a connection to the fuse box, tried again and....... 'click'
Did a bit of digging and it turned out that the loom I had bought had just one wire removed from it and as it happens it was the one from the ignition to the starter, stripped the old loom back, removed what i needed, connected it up and it fired up, couldn't have been happier until i turned my attention back to the track rod end which i disconnected earlier to remove the shafts. One side went on fine but when i removed the other side i forgot to leave the nut on the treads while hitting it to break the taper and managed to damage the threads to the point where i couldn't get a nut on. At 11pm last night decided to call it a night after a full day's graft on it, managed to not only find a motor factors that was open today but managed to find one with just one track rod end in stock, grabbed it, fitted it and drove it.
such a massive improvement over my 1.4 with a slipping clutch, the panther clutch i fitted to this engine is easily the nicest I've driven. The car is so much quicker now and the only problems left to sort are the speedo and the crappy gear linkage, i thought my r65 one was bad but this is horrible. A short shifter and new bushes are in order for it.
I managed the swap in a day and would have had it driving in a day if it wasn't for that track rod end so for my first engine swap I think it went well, any questions about doing a similar conversion i'd be happy to help.
I'll add more pictures that my mate took on his phone and the first startup video too.
Been running sweet for the past few weeks now, sorted the rev limit out (well it sorted itself) not sure what caused it, had quite a few oil leaks due to damaged threads on the cam carrier and one where the HCU bolts in but they're all sorted with helicoil inserts.
Got a driveshaft oil seal which is leaking a bit so I'll get that sorted when I can be bothered, but other than that it's been spot on.
One thing that has been annoying me is the pg1 linkage, it has more play when it's in gear than any other car I've driven when its in neutral, it's horrible. Soooo, goodies arrived today:
Ford KA/fiesta steering uj to replace the original one which has horrific play in it. Picked it up new off eBay for £5.60 which is cheaper than I could get it at the scrappy and means I didn't have to mess around removing it
And...... Poly bushes for it which cost more than the uj at about £20 posted.
I realise they're probably not that necessary but if I'm replacing the uj then I might as well do those as well, hopefully have a solid linkage when I fit them on Sunday (weather permitting)
Tackled the gear linkage today, wasn't too difficult, just a little awkward getting the positioning of the uj right on my own. Removing the roll pin wasn't too difficult either, just used a bolt the same size to hammer it through. Did the whole thing without removing the cat which made it a little more awkward but didn't have any exhaust paste with me which is why I left it in place.
Here's a quick vid of how bad it was, the play in the uj was ridiculous: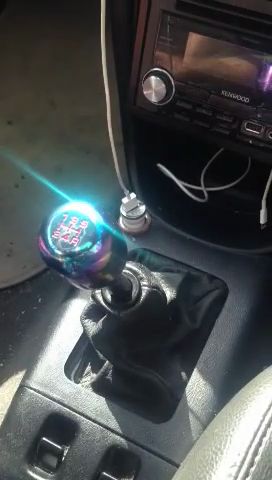 Even with it in gear there was lots of play in all directions
Removed the linkage bar a cut off the old uj with a hacksaw:
Then sized up the ford KA uj: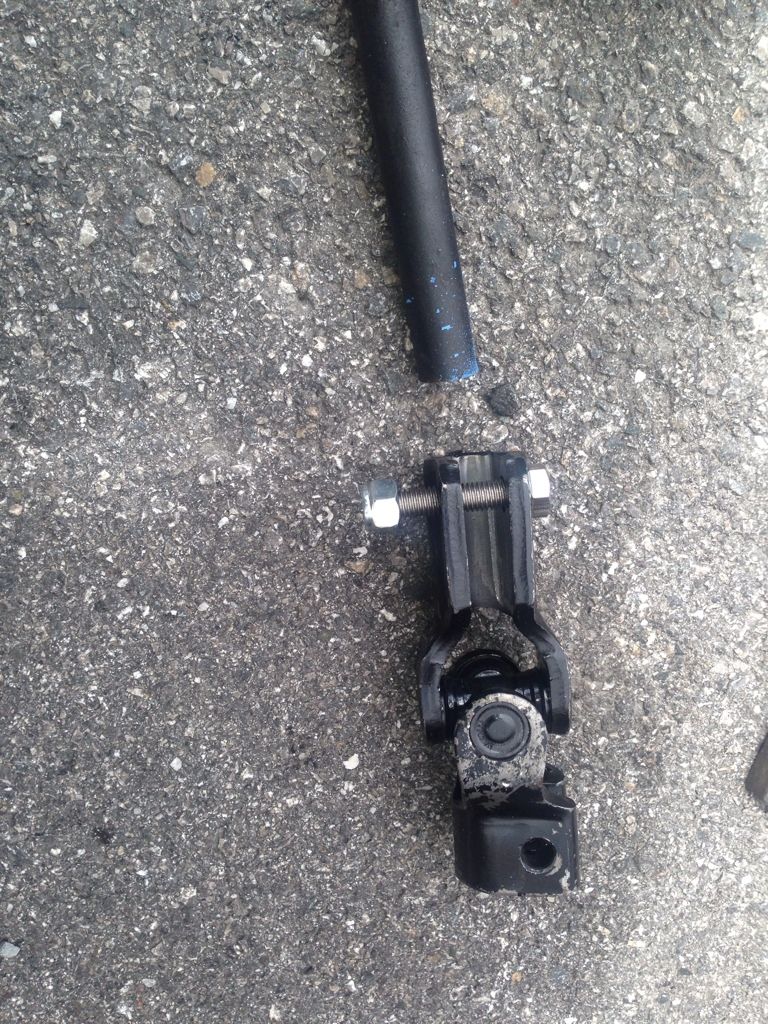 Bolted it all up and got the positioning right:
Used a big torque wrench to tighten the bolts as the one on the linkage bar kept slipping
Then replaced both bushes with poly bushes: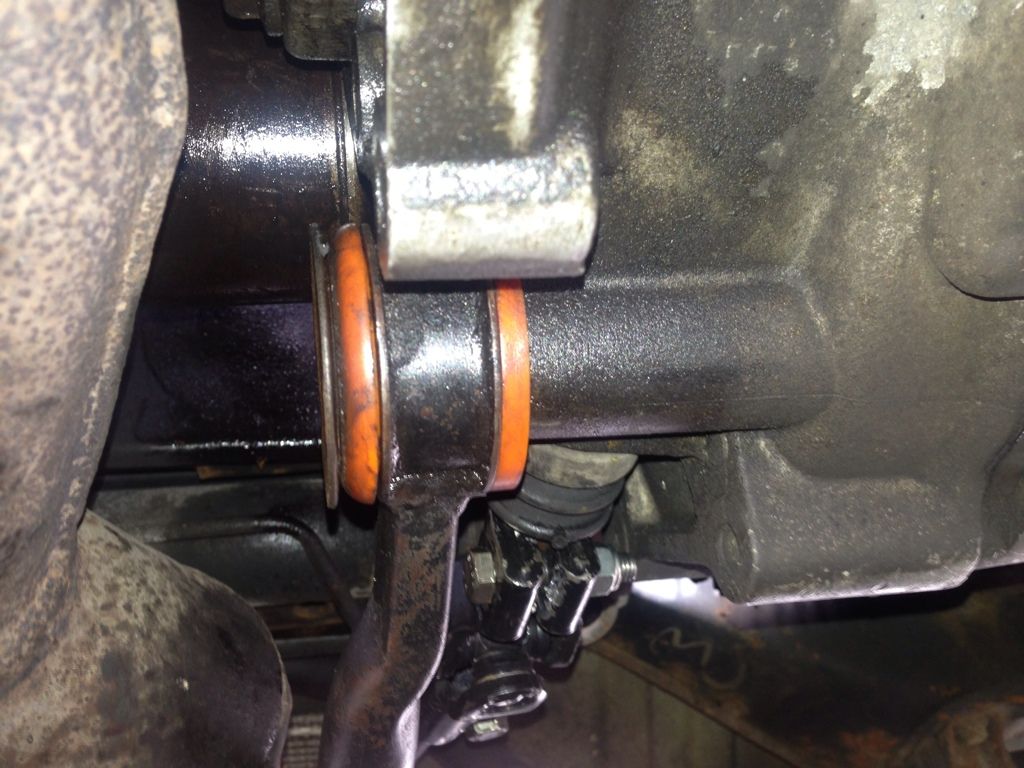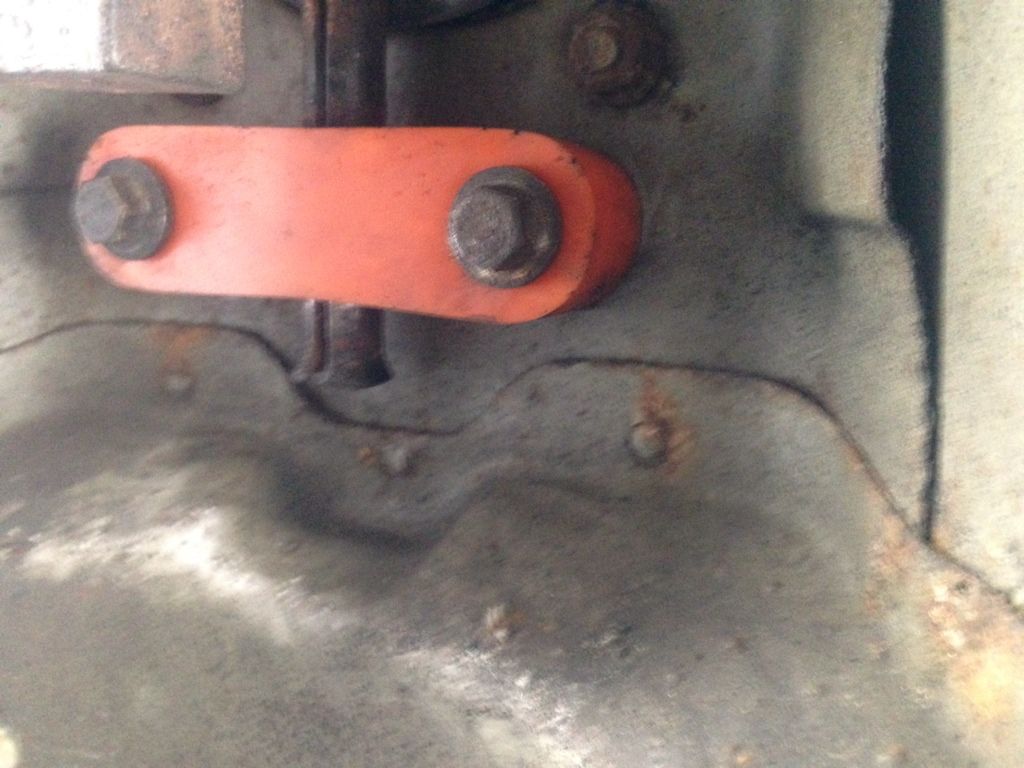 The one on the stabiliser bar was a little hard to get in but just used a flat head screw driver to push it through.
Things have gone from good to bad quite quickly, I posted a couple of threads about a noise I had this week, first thought it was vvc mechs, then thought it was big end damage, turned out I was correct with the big end damage: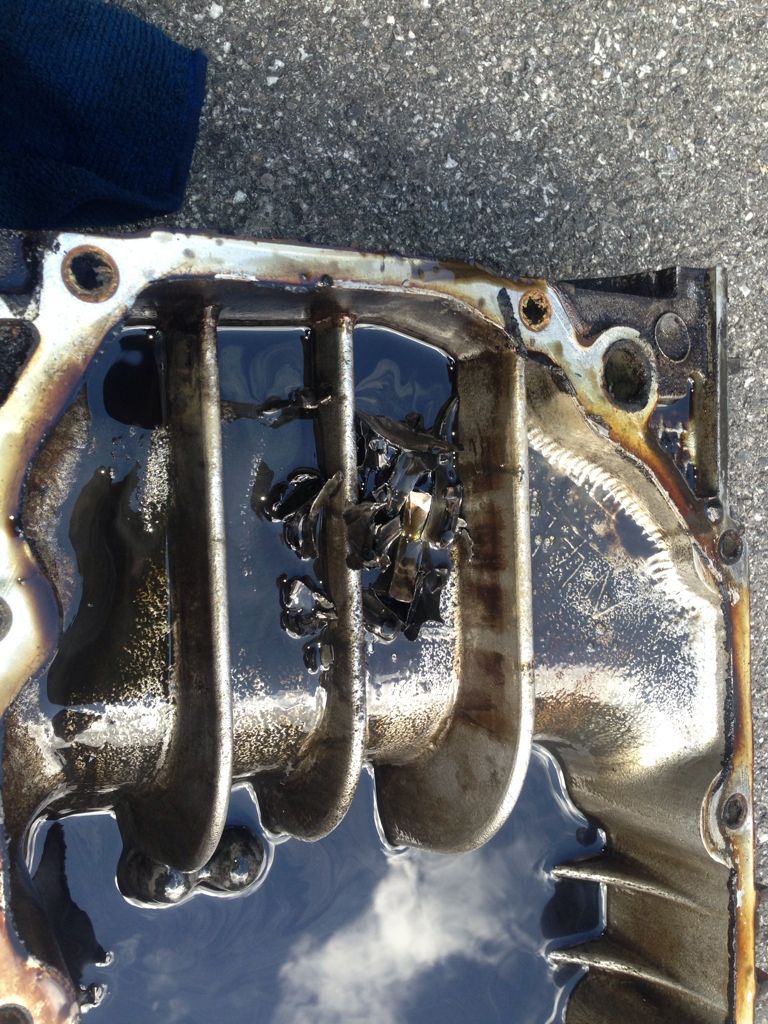 Catastrophic faliure on piston 2, there was literally no shell left in it at all, they were both in bits in the sump, piston 1 had play too and the crank is scrap. Gutted doesn't cover it. The block I used originally was a factory 1.6 block not the one I was building, had around 50k on it so can't understand why this happened. Any ideas anyone?
Anyway tore it apart today: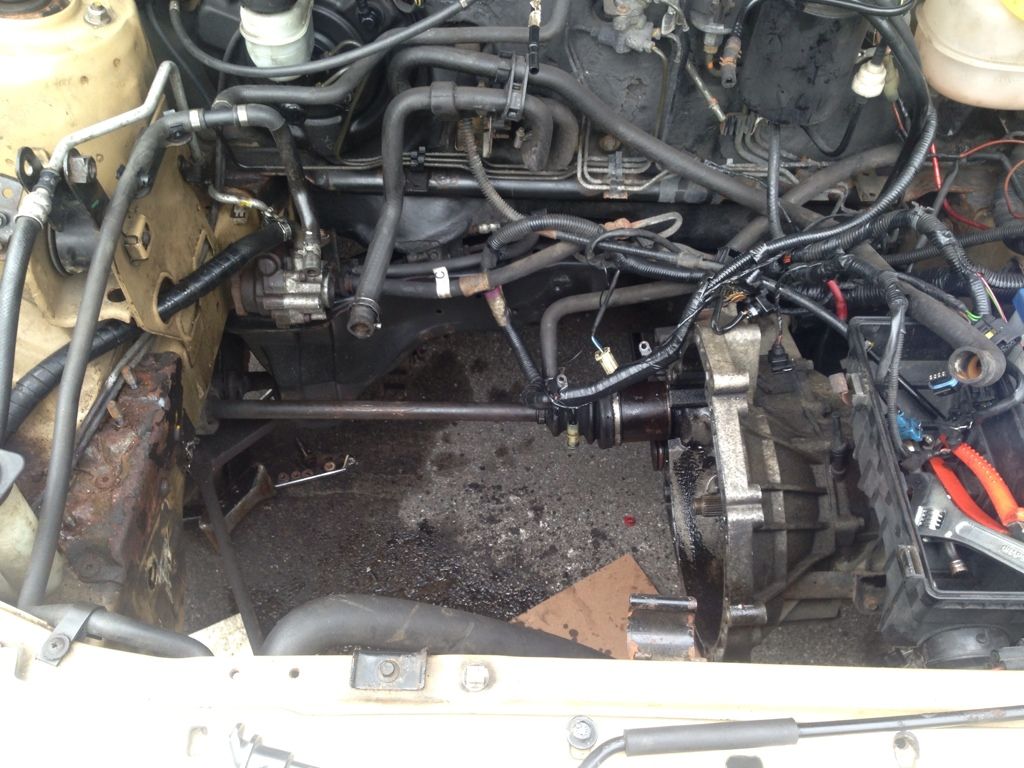 As I didn't have an engine hoist it wasn't the easiest. Supported the engine on a jack, undone everything and lifted that biatch out, it really wasn't easy but got it out.
I've still got a 1.4 block with 1.6 internals in which I need to finish building then I'll just be dropping that in. Sick of the car now, want it running then probably just going to use it for the next month and give it to my dad after I've picked up a civic coupe.
finished building my new block up today and stripped everything off the old one. Fitted the flywheel to the new block and probably have about another 30-40mins in bolting everything to the new block so I'll be up early tomorrow to finish it and hopefully get it dropped in if I can manage on my own.