Do you want to change the wheel nuts on your ZR but still have the OE wheels?
Then you need to have note of this.
The Rover 25/MG ZR use a ball/radial seat type wheel nut, which is unlike the majority of other makes of cars and aftermarket wheels which tend to use a 60 degree Taper/conical seat type.
Here is a picture to show the difference.
Now you
MUST
use the correct wheel nut type.
If you choose to ignore this then you are making your car unsafe.
Using a conical nut will
NOT
provide the correct clamping force required to safely hold your wheels in place.
here's another picture to help illustrate what I'm saying.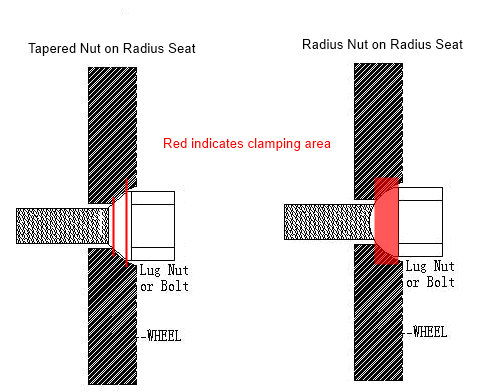 As you can see the HUGE difference in clamping area between using the wrong and right type of nuts.
Choose to ignore what I've said then do so at your own risk and put yourself and others in danger.
Bare in the mind this applies to using OE wheel nuts on aftermarket alloys as well
​